RCSI educator named Most Innovative Teacher of the Year in 2022 Times Higher Education Awards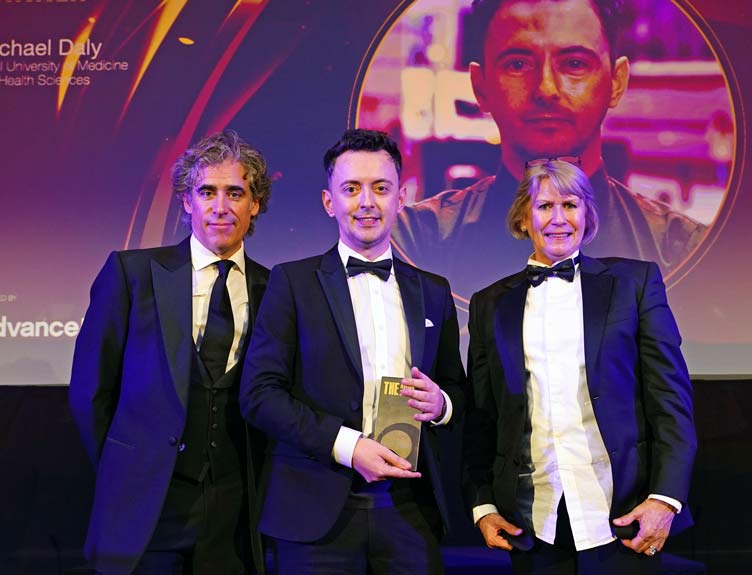 Dr Michael Daly from RCSI University of Medicine and Health Sciences has won the Most Innovative Teacher of the Year award at the 18th annual Times Higher Education Awards.
Dr Daly is a clinical lecturer in cardiology with a Master of Arts degree in playwriting. He developed a series of patient-centred learning experiences that have been delivered enthusiastically and are consistently rated as 'inspirational' by students.
The programme was developed in response to the restrictions placed on medical students during the pandemic, when access to clinical sites was shut off. Given that graduate medicine students already study a condensed degree programme, Dr Daly worked with the RCSI SIM Centre for Simulation Education and Research to mitigate disruption to their education and learning by developing a novel wearable vest for patient actors.
This could simulate the clinical signs heard on those who have valvular heart disease, for example, abnormal heart sounds and murmurs. He supported this 'Don the Vest' initiative with scripted case histories for a variety of patients.
The hybrid simulation technique has now been adopted more widely in the medical curriculum at RCSI and has been shared at conferences with international audiences with the goal of introducing it in other medical schools.
The judges said Dr Daly's approach demonstrated "highly innovative responses to external changes to the benefit of students".
"The students clearly enjoyed the experience and gained a great deal as the performance scores were highly impressive," the panel said.
Professor Cathal Kelly, Vice Chancellor, RCSI, said: "Dr Daly's recognition as the Most Innovative Teacher of the Year, from a diverse shortlist of the most innovative educators across the UK and Ireland, is a truly outstanding achievement and a testament to his innovative approach to delivering the very best educational experience for our students. Congratulations to Dr Daly and the team at RCSI SIM who have fostered Dr Daly's creativity and passion for innovation in medical education."
Widely known as the 'Oscars of higher education', the annual THE awards celebrate excellence across a wide range of university activity across leadership and management, administration, and academia. This is just the second year that Irish institutions were eligible to enter.