Secondary school students get a taste for scientific research at RCSI
General news
Research
Community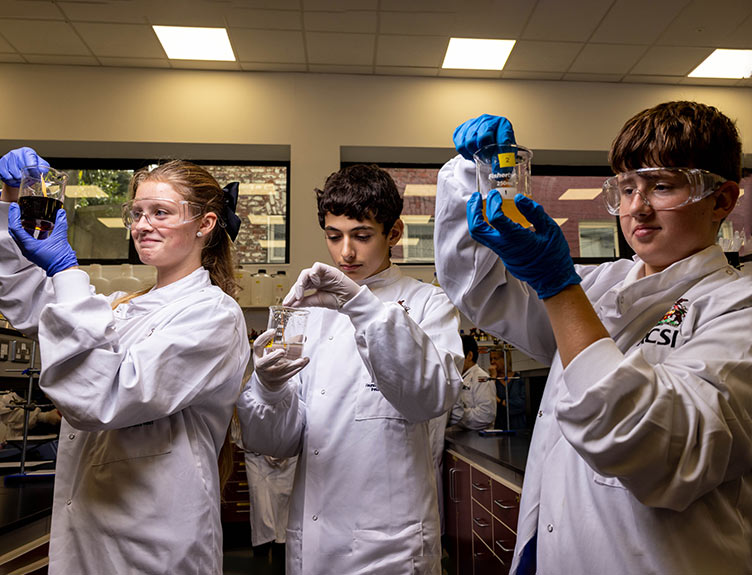 Post primary school students have gained first-hand experience of scientific research as part of the Science Foundation Ireland (SFI) Junior Researcher Programme developed by RCSI Engage at RCSI University of Medicine and Health Sciences.
Funded by the SFI Discover Programme and culminating during Science Week 2022, the Junior Researcher Programme involved 70 first-year students from link DEIS (Delivering Equality of Opportunity in Schools) schools, CBS Westland Row and Presentation Secondary School, Warrenmount. The budding researchers took part in a series of workshops, presentations and lab sessions both in school and at RCSI, to experience what it's like to study and work in science and research, and understand the real impact it has on society.
The SFI Discover Programme creates opportunities for broader participation and engagement of the public with STEMM (science, technology, engineering, mathematics and medicine). As part of that, the RCSI Engage Junior Researcher Programme aims to work in partnership with participating schools to support students to develop scientific literacy, prepare for Junior Certificate Classroom Based Assessment (CBA), and build interest in STEMM subjects in advance of senior cycle by providing insight into STEMM careers through positive dialogue with scientific role models.
Interactive laboratory sessions led by RCSI researchers and PhD scholar mentors focused on encouraging participants to develop interest in and enthusiasm for the STEMM subjects. As well as hearing from RCSI mentors about their journey from secondary school into research careers, the students took part in a hands-on group research project, forming teams with assigned roles including Project Manager, Data Analyst and Technician.
Each team chose their own research question, such as "Does the sodium hypochlorite concentration in bleach have an effect on its ability to kill bacteria?", "Why is glue sticky and why doesn't glue stick to the container?" and "Which is bouncier – a football or a tennis ball?"
With the support of RCSI research mentors and their teachers, the teams investigated their research questions and presented their findings at a Mini Symposium at the end of the programme, which was followed by an awards ceremony for all participants.
Maria Kelly, Head of RCSI Engage and REACH RCSI, said: "It has been fantastic to see the students and teachers taking part in the Junior Researcher Programme. This programme seeks to engage and inspire curiosity and confidence in science among junior cycle students, with the aim of encouraging and growing participation in STEMM education and careers. By interacting with real-life researchers, as well developing their own research projects, the students have experienced what it's like to study science and work as a scientific researcher, as well as seeing the real impact of STEMM in society.
"We hope we have helped to inspire the next generation of scientists to explore the wide variety of opportunities available to them, by demonstrating the link between their science textbooks and the real world of scientific research."