RCSI BioSoc's 90th inauguaral address explores progress in personalised medicine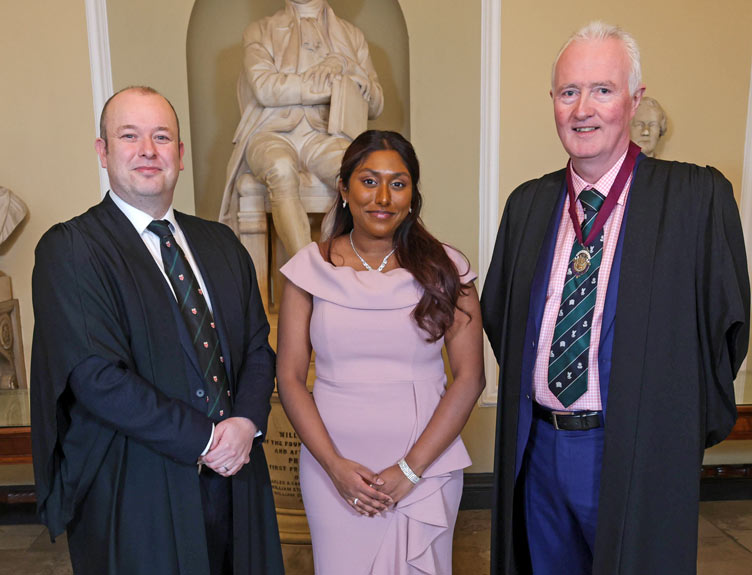 Friday, 20 January marked the 90th RCSI Biological Society's inaugural address with the theme of 'Progress in Personalised Medicine'.
The historic Biological Society (BioSoc) is the official student society of RCSI and one of the oldest student medical societies in the world.
The black-tie event, held in the Albert Lecture Theatre at 123 St Stephen's Green, was opened by BioSoc Student President Jennita Ariaratnam, followed by Faculty President Professor Mark Sherlock, Consultant Endocrinologist at Beaumont Hospital and Clinical Research Centre Director at RCSI, who introduced the panel of expert speakers from across a range of specialties.
Exploring the theme as it applies to blood cancers, Professor Siobhan Glavey, Chair and Professor in the Department of Pathology RCSI, delivered the esteemed Widdess Lecture titled, 'Personalised medicine in haematologic malignancies – an evolving paradigm'.
Professor Diarmuid Smith, Consultant Endocrinologist, Beaumont Hospital and Associate Clinical Professor, RCSI, continued with an overview of the advances in diabetes care as it moves towards the goal of personalised medicine.
Dr Sinead O'Donnell, Consultant Clinical Microbiologist and Senior Lecturer Beaumont Hospital and RCSI gave a talk titled, 'Precision medicine in clinical microbiology – achievements and potential'.
Speaking about the event, Professor Sherlock, BioSoc Faculty President, said: "We are delighted to host this historical 90th inaugural address of the Biological Society, and I thank our students for their efforts bring us together in-person again. It has been inspiring to hear about the progress being made to bring individualised care to patients through personalised medicine. At RCSI we aim to foster innovation through our medical education and ensure our students are empowered to be the future leaders in the delivery of the safest, most personalised and effective healthcare."
Also announced at the event were the annual BioSoc prizes and medals. The prizes were:
RCSI Council Medal (Senior Case Competition): Jeneva Smith
RCSI Council Medal (Junior Case Competition): Maryam Khan
Dr Arthur Stephen ffrench-O'Carroll Medal: Conor Kearns
Denis Gill Medal (Paediatrics): Eoin Butler
Psychiatry Case Competition: Gerges Abdelsayed
Alan Browne Model (Obstetrics and Gyneacology Case Competition): Colleen Owen
Mary Leader Medal in Pathology: Alyssa Chow, Natalija Lakic, Riaz Jiffry
Mary Leader Medal in Pathology runners-up: Luke McAuley, Aine Harris, Vivien Jones
Tom Farrell Neuroscience Award (Nerves of Steel Quiz): Alex Poluha, Ziad Qadadeh, Sarah Alzayyat
Tom Farrell Neuroscience Award (Nerves of Steel Quiz) runners-up: Adam Jordan, Victoria Chan, Mohammadi Maahtaab
Infectious Disease and Public Health Journal Competition: Savanna Naylor