Students explore medicine, pharmacy, physiotherapy and ATT programmes at RCSI Open Day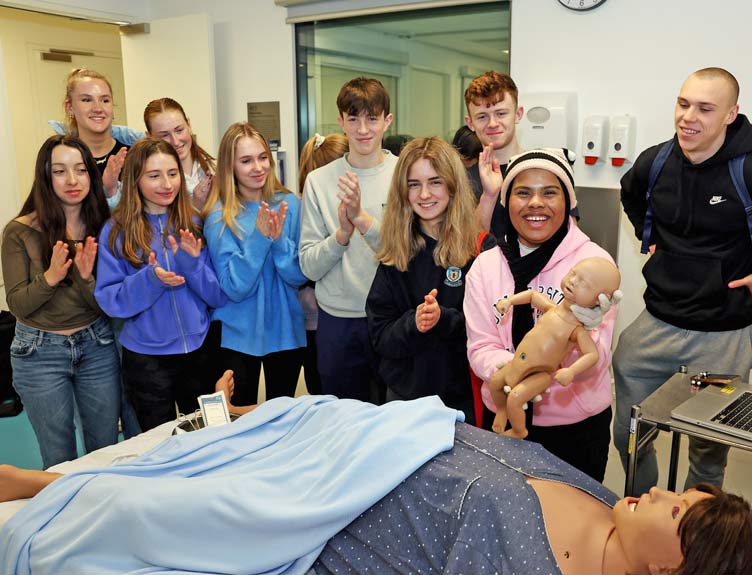 More than 400 students from second-level schools throughout Ireland learned about life as a medical, pharmacy, physiotherapy and advanced therapeutic technologies (ATT) student at the RCSI University of Medicine and Health Sciences Open Day 2023 yesterday.
At the daylong event, Leaving Certificate students explored the RCSI SIM Centre for Simulation Education and Research, a facility designed to mirror a real hospital environment, with surgical and clinical skills laboratories, a flexible mock operating theatre/emergency room and both inpatient and outpatient rooms.
Interactive workshops gave them the unique opportunity to get hands-on insights. Attendees also heard from current students, graduates and RCSI faculty about student life and career options.
RCSI Vice Chancellor Professor Cathal Kelly said: "We are delighted to return to our in-person open days at RCSI. It is always a pleasure to welcome such engaged and enthusiastic students through the doors to give them a taste of what their healthcare education in RCSI could entail and how we can support them in achieving their career goals."
In the medicine workshop, students experienced a delivery by a birthing mannequin and performed cardiopulmonary resuscitation (CPR) on dummy patients.
The physiotherapy workshops used hands-on practical methods to show students the role of a physiotherapist in the management of people with lung conditions and rehabilitation of ankle injuries.
Students also got the chance to learn how the skills and knowledge of pharmacists contribute to patient care and experienced the art of making and analysing drug delivery systems in the pharmacy and ATT workshops.
You can find further information on the medicine, pharmacy, physiotherapy and ATT programmes at RCSI here.