Professor Graeme Clark awarded Honorary Fellowship of RCSI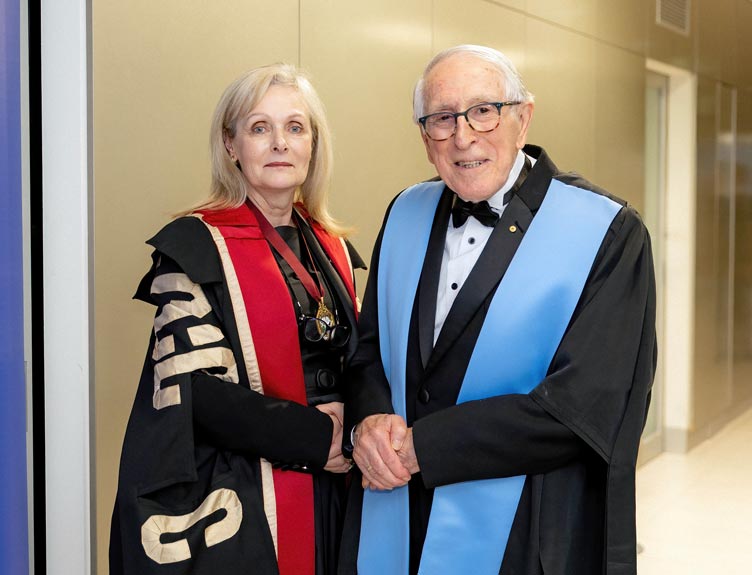 Professor Graeme Clark AC – pioneer of the bionic ear, or multi-channel cochlear implant – has been awarded an Honorary Fellowship of the Royal College of Surgeons in Ireland (RCSI).
The Honorary Fellowship of RCSI is the highest distinction the College bestows, recognising outstanding clinical achievements and humanitarians that include Nelson Mandela, Mother Teresa of Calcutta and President Jimmy Carter.
The multichannel implant developed by the team led by Professor Clark, in association with the Australian firm Cochlear Limited, is the world's first device to restore a human sense and allow severely-to-profoundly deaf people to understand speech. It has been the world leader for 40 years and has the dominant share of the one million people now implanted in over 120 countries.
Professor Clark's achievements have been recognised globally. His numerous prestigious awards include Australia's highest civil honor, a Companion of the Order of Australia, for services to medicine in 2004, and Senior Australian of the Year in 2001 and many international honors, including the Lasker DeBakey Award, considered the American Nobel in Clinical Medical Research.
He is a Laureate Professor at the University of Melbourne and a member of The Graeme Clark Institute for Biomedical Engineering, which was named in his honour and seeks to transform healthcare with biomedical engineering.
Role model
Professor Laura Viani, RCSI President and cochlear implant pioneer in Ireland, who is visiting Melbourne especially for the presentation, congratulated Professor Clark on his Honorary Fellowship: "Professor Graeme Clark is a most worthy Honorary Fellow and a wonderful role model for the Fellows and Members of our College.
"As a child, Professor Clark felt a great desire to make discoveries – starting with experiments in his mother's laundry and father's pharmacy. Having witnessed his father's battle with severe hearing loss, as an ear surgeon and neuroscientist, he overcame challenges such as scepticism from the scientific community and a lack of funding, through knowledge, skill, conviction and perseverance, to bring the gift of hearing to deaf people, with industrial partner Cochlear Limited."
University of Melbourne Vice-Chancellor Professor Duncan Maskell also congratulated Professor Clark. "The University community – and Australians more broadly – are immensely proud of Professor Graeme Clark," Professor Maskell said. "His story is an inspiration to us all, particularly the new generation of biomedical engineers, scientists and innovators who, like Professor Clark, we hope will one day discover the solutions to some of the world's greatest challenges."
Transforming the world
Accepting his Honorary Fellowship, Professor Clark said: "I am deeply honoured and proud to receive this international recognition from the Royal College of Surgeons in Ireland. Our achievement in developing the multichannel cochlear implant demonstrates how technology, innovation, persistence and collaboration can transform the world. It has been hugely rewarding to see the immense difference the implant has made to thousands of people around the world.
"Many people contributed to this journey that began over 40 years ago, including fellow scientists, medical specialists, the University of Melbourne, the Royal Victorian Eye and Ear Hospital, the bionic ear manufacturer Cochlear Limited, the patients who provided critical feedback during the development phase, and my family, who showed continuous belief in me and conviction for this project.
"I thank them all for helping to make the multichannel cochlear implant dream a reality, transforming the lives of so many people over recent decades and into the future."