RCSI launches celebration of pioneering Irish surgeon Abraham Colles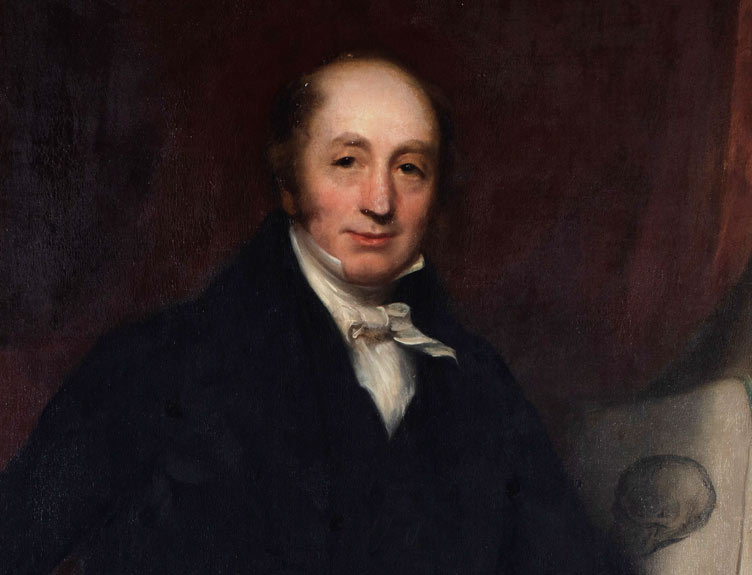 'Colles at 250' series of Heritage Week events pays tribute to a pivotal figure in the history of RCSI, with discussions, tours and innovative online resources remembering a surgeon whose influence on the field of anatomy is still seen worldwide.
RCSI has launched a programme of in-person and virtual events for Heritage Week 2023, celebrating the life and legacy of pioneering Irish surgeon Abraham Colles on the 250th anniversary of his birth.
Abraham Colles (1773-1843) was a surgeon, physician and anatomist, and a leading figure in the golden age of Irish medicine in the 19th century. He also had a strong connection with RCSI as a past pupil, professor and President of the College.

Colles revolutionised the teaching of anatomy during his lifetime, paving the way for new insights into the structure and workings of the human body for centuries to come. His legacy is evident in his two major contributions to anatomical knowledge: the development of a regional approach to the study of anatomy, and the eponymous Colles fracture.

RCSI's celebration of Abraham Colles has been made possible with the support of Heritage Council funding. The Colles at 250 programme includes a range of free, in-person events and virtual activity.

Professor Laura Viani, RCSI President, said: "We are proud to celebrate the legacy of Abraham Colles this Heritage Week and we look forward to bringing his achievements to a broader audience through this programme of virtual and in-person events.
"RCSI has been based at 123 St Stephen's Green since 1810. Since then, this building in the heart of Dublin city has played a central role in Irish history. This Heritage Week, we are delighted to welcome people to visit our College and learn more about our history and impact."
In-person events
On Monday 14 August at 5:30pm, RCSI will host a fascinating panel discussion with faculty from the Department of Anatomy and Regenerative Medicine and RCSI Heritage Collections staff.
This session will explore Abraham Colles' ground breaking approach to the teaching of anatomy during his lifetime, how this has influenced anatomy education in medical schools around the world to this day, and what the future holds for the study of human anatomy in the age of regenerative medicine.

A series of guided tours of RCSI's historic buildings on St Stephen's Green will run from Monday 14 August to Wednesday 16 August. Visitors will learn about the role RCSI has played in both local and national history, from shaping the development of medicine and surgery in Ireland over the last 239 years, to the events of Easter Week 1916 when rebels occupied the building.
Tours will include a special viewing of the award-winning Women on Walls portrait series showcasing extraordinary women in RCSI history. Event attendees will also have the opportunity to find out more about Abraham Colles in a temporary pop-up exhibition exploring his life and legacy.

Booking is essential for all in-person events and spaces are limited. Event details and bookings are available here.
Virtual programme
RCSI's Colles at 250 programme also includes an exciting virtual offering to celebrate the 250th anniversary of Abraham Colles' birth.

A dedicated virtual exhibition celebrates Colles' life as a student, educator and innovator, from discovering his passion for anatomy as a youth in Kilkenny to the last great act of his medical career conceived on his deathbed.

Heritage Council funding has also supported the digitisation of Colles' personal papers in the care of RCSI Library Heritage Collections. From the marginalia of his lecture notes to correspondence with family members, viewers are afforded a glimpse of the wisdom and wit of Colles in his own hand. Digitised material from Colles' papers can be accessed online for the first time on the RCSI Digital Heritage Collections website here.
Irish Men's Sheds Association Collaboration
RCSI Library has also collaborated with the Irish Men's Sheds Association to create bespoke cabinets for the display of unique and rare historical material from RCSI Library Heritage Collections. The cabinets were created by members of the Clondalkin Men's Shed and will be unveiled as part of RCSI's Heritage Week programme.

The focus on improving men's health and the role played by Men's Sheds in promoting individual and collective wellbeing in communities complements RCSI's values as a focused health-sciences university with the enhancement of human health at its core. These cabinets will be used to support other events and activities that take inspiration from and celebrate RCSI's rich heritage in healthcare including the Sir Charles Cameron Award for Population Health and the Emily Winifred Dickson Award.