RCSI SIM Centre secures reaccreditation from Network of Accredited Clinical Skills Centres in Europe
Surgical
General news
Students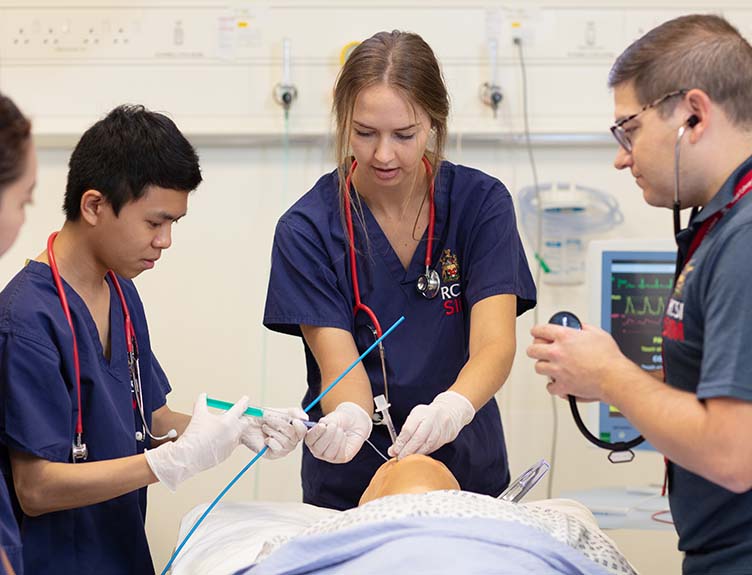 RCSI SIM Centre for Simulation Education and Research at RCSI University of Medicine and Health Sciences has achieved full reaccreditation for a four-year term from the Network of Accredited Clinical Skills Centres in Europe (NASCE).
The NASCE Accreditation and Review Board praised RCSI SIM for establishing an internationally-recognised healthcare educational centre. RCSI SIM was also commended for its integration into the Irish healthcare education system and for its positive impact on healthcare quality, costs and safety culture.
RCSI SIM is based at 26 York Street in Dublin and is home to Ireland's National Surgical and Clinical Skills Centre. The centre aims to improve patient safety, education and research through immersive and realistic experiential simulation-based learning techniques and tools.
Professor Jan Illing, Interim Professor and Chair of Simulation Education and Research at RCSI SIM said: "The reaccreditation of RCSI SIM by NASCE is a significant international endorsement of the centre's dedication to the highest standards of simulation education and research. This reaccreditation acknowledges the dedication of RCSI SIM Centre's faculty and staff to providing world-class training and education to our students and trainees, using evidence-based curricula and informing simulation research across the continuum of higher education."
Growing demand
"As the demand for simulation in healthcare training continues to grow, the endorsement by NASCE positions RCSI SIM as a European leader in providing a controlled and safe environment where students can practice and refine their clinical skills, from surgical procedures to complex patient interactions," said Dr Claire Condron, Director of Simulation Education, RCSI SIM.
"We are particularly proud to have incorporated patient-centred initiatives such as the simulated participant programme across a wide array of curricula at RCSI, both for training and assessment. We look forward to further embracing new technologies such as robotic surgery and expanding the use of wearable technology so we can continue to deliver the highest quality future-focused simulation-based education programmes.
"The accreditation report was a combined effort by the accreditation working group including Ms Dara O'Keeffe and Dr Claire Mulhall with invaluable support of the Sim Tech Team," says Dr Condron.
Building on RCSI's establishment of Ireland's first medical simulation centre at Beaumont Hospital more than two decades ago, RCSI established the RCSI SIM Centre for Simulation Education and Research with the support of a €1.2m investment from the Higher Education Authority (HEA). RCSI SIM is home to a multidisciplinary team of clinical experts, technical experts, educationalists and scientists.