Professor Steve Kerrigan wins SFI Commercialisation Award 2023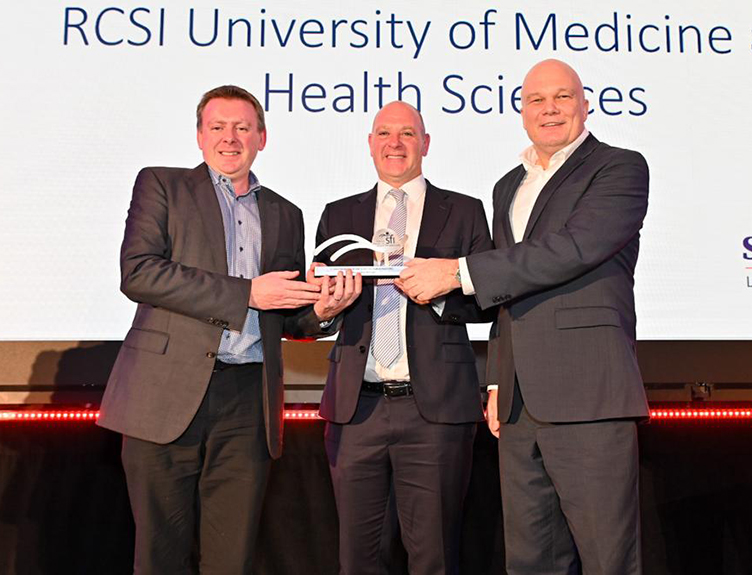 Professor Steve Kerrigan from the School of Pharmacy and Biomolecular Sciences at RCSI University of Medicine and Health Sciences has been named winner of the Science Foundation Ireland (SFI) Commercialisation Award 2023.
The award was announced at the 2023 Research Summit, a joint summit hosted by SFI and the Irish Research Council (IRC).
The SFI Commercialisation Award recognises an entrepreneurial or innovation leadership achievement that has resulted in a significant and demonstrable commercial impact. The award celebrates the entrepreneurial motivation, attitude, and skill required in translating publicly funded research to market.
The award recognises Professor Kerrigan's contribution as a founder of Inthelia Therapeutics, an RCSI spin-out clinical-stage pharmaceutical company that aims to develop personalised therapeutic approaches to treat patients with sepsis. Sepsis is the leading cause of death worldwide, causing over 11 million deaths globally per year.
Professor Steve Kerrigan commented: "I am proud and honoured to receive the 2023 SFI Commercialisation Award. Sepsis remains a major global health challenge with high mortality rates and there is currently no drug available to treat the underlying condition. Through RCSI spin-out company Inthelia Therapeutics, I am proud to lead the advancement of an innovative biomarker-guided, host-targeted therapy towards late-stage clinical trials in early sepsis. Building on my research that has advanced the understanding of the molecular mechanisms that leads to sepsis, I hope that the work of Inthelia will ultimately make a significant impact on the treatment and outcomes for sepsis."
Professor Fergal O'Brien, Deputy Vice Chancellor for Research and Innovation at RCSI, commented: "Congratulations to Professor Steve Kerrigan on his success as winner of the SFI Commercialisation Award 2023. This recognition of his ground-breaking work through this prestigious national award is a testament to the outstanding translational research at the RCSI School of Pharmacy and Biomolecular Sciences which is being advanced by RCSI spin-out company Inthelia Therapeutics and will potentially benefit the millions of people who are impacted by sepsis annually."
Tireless work
Commending the 2023 award winners, Professor Philip Nolan, Director General, Science Foundation Ireland, said: "Through their innovation, creativity and tireless work, these researchers have striven to improve the world around them. SFI is delighted to recognise their efforts and achievements with these prestigious accolades. I want to offer my sincere congratulations to all the award recipients."
Inthelia Therapeutics is a spin-out company from RCSI co-founded by Professor Steve Kerrigan, Deputy Head of School (Research), Professor of Precision Therapeutics and Head of the Cardiovascular Infection Research Group at the RCSI School of Pharmacy and Biomolecular Sciences. Since spinning out from RCSI, Inthelia has achieved notable progress, establishing valuable connections and partnerships with international investors including €1M in funding through the BlueKnight QuickFire Challenge programme, a joint initiative between Johnson & Johnson Innovation LLC and the Biomedical Advanced Research and Development Authority (BARDA), part of the Administration for Strategic Preparedness and Response at the U.S. Department of Health and Human Services.
RCSI Innovation supports spin-out company creation and engagement with investors and entrepreneurs to drive improvements in human health.