Research Day 2021 focuses on COVID-19 and advances across the spectrum of health research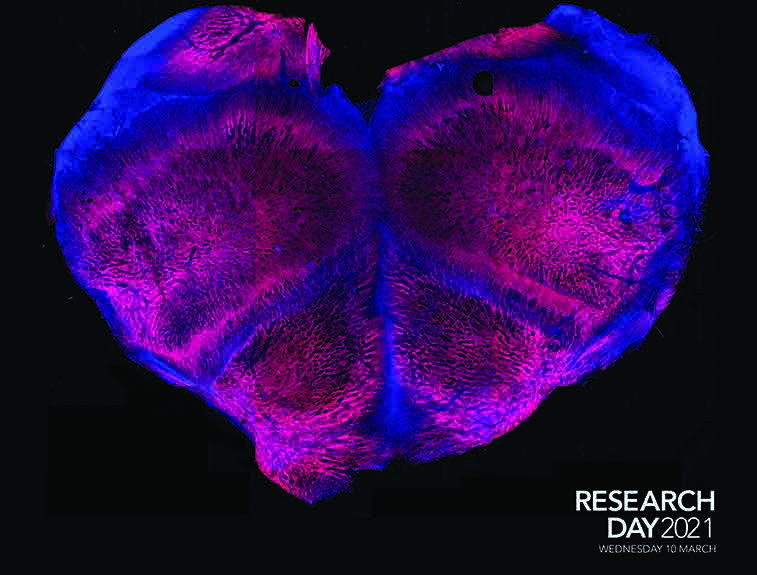 Researchers at RCSI University of Medicine and Health Sciences will showcase their work on COVID-19 and basic, clinical and applied health research at the annual RCSI Research Day 2021 which takes place today.
The forum provides RCSI scientists with the opportunity to showcase their most recent research findings and emphasises the importance of research and innovation to improve human health within the University. Due to the COVID-19 pandemic, this year's research day is being held entirely online.
Clinician scientists and researchers will present RCSI-led COVID-19 research, including advances in diagnostics and treatments for severe COVID-19. Presentations on basic and translational research will address a range of research topics, from the inflammatory response in cystic fibrosis patients to 3D bioprinted dressings to treat skin burns. The clinical and applied research presentations will also explore a broad range of topics, such as childhood obesity treatment services, breast cancer patients and drug poisoning deaths.
Professor Adrian Hill, Director of the Jenner Institute, will deliver the John J Ryan distinguished lecture, "Developing vaccines during a pandemic", where he will describe the rapid development of the Oxford/AstraZeneca COVID-19 vaccine.
In 2020 his team partnered with AstraZeneca to develop a vaccine for the novel COVID-19 virus, a monumental feat which was achieved in less than one year. He also heads a group at the Wellcome Trust Centre for Human Genetics which studies genetic susceptibility factors for common bacterial diseases.
"RCSI is committed to supporting and nurturing an active research community, and the annual Research Day is a vital platform for highlighting the scope of research taking place across the different disciplines in the University," said Professor Fergal O'Brien, RCSI Director of Research and Innovation.
"As it was highlighted in the presentations, and even the online format of this year's Research Day, COVID-19 has been a major focus of everyone in the University. Today's event has showcased our commitment to pivoting our expertise in response to an unprecedented crisis while continuing vital work in other health research areas."
To conclude the day, awards will be presented to researchers for their outstanding achievements in research and innovation.
The Clinician Innovation Award will be presented to Professor Richard Costello for his partnership with S3 Connected Health to develop a web-based clinical support tool for COVID-19. The Tissue Engineering Research Group will be awarded the Commercialisation Innovation Award for licensing tissue engineering technologies to Locate Bio. The Industry Engagement Innovation Award will be awarded to Professor Fergal Malone for his many industry collaborations.