Google Chief Health Officer receives Emily Winifred Dickson Award at RCSI
General news
Students
Community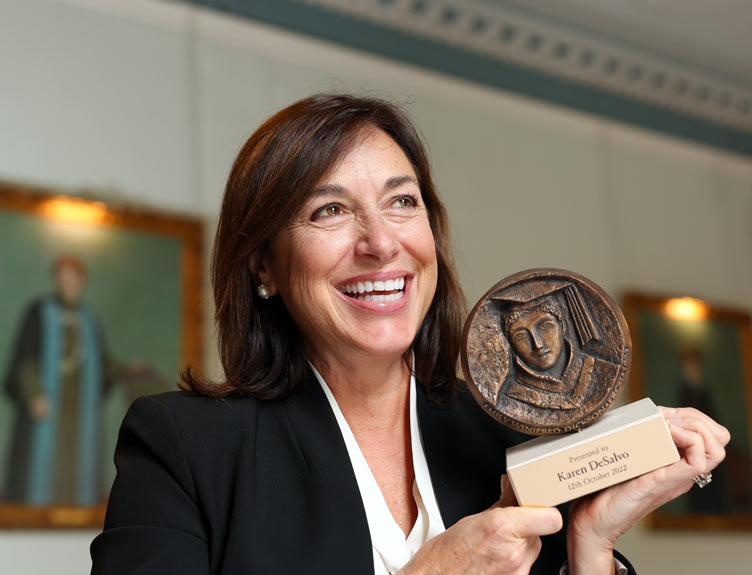 Dr Karen DeSalvo, Google Chief Health Officer, has today received the Emily Winifred Dickson Award from RCSI University of Medicine and Health Sciences, in recognition of her outstanding impact in public health.
Emily Winifred Dickson broke boundaries when she became a Fellow of RCSI in 1893, making her the first female Fellow of any of the surgical royal colleges in Britain and Ireland. RCSI established the Emily Winifred Dickson Award in honour of the achievements of this pioneering woman. The award recognises women who have made an outstanding contribution to their field.
Dr Karen DeSalvo is a doctor of internal medicine and health leader working at the intersection of medicine, public health, and information technology. She has dedicated her career to improving health outcomes for all, with a focus on solutions that address all the determinants of health.
During her time at the US Department of Health and Human Services, Dr DeSalvo focused on creating a more consumer-oriented, transparent and value-based health system. She served as the New Orleans Health Commissioner following Hurricane Katrina.
Dr DeSalvo continues to be a powerful voice and advocate for eliminating inequities and improving the public's health. At Google, she leads a team of health professionals who provide guidance for the development of inclusive research, products and services, and has been part of the Google COVID response team.
Before joining Google, Dr DeSalvo was National Coordinator for Health Information Technology and Assistant Secretary for Health (Acting) in the Obama Administration. She was previously Vice Dean for Community Affairs and Health Policy at the Tulane School of Medicine where she was a practicing internal medicine physician, educator, researcher and leader.
Deeper insights
Professor Cathal Kelly, Vice Chancellor, RCSI, said: "RCSI established the Emily Winifred Dickson Award in honour of the achievements of this pioneering woman and to recognise other women who have broken boundaries in their field.
"The pandemic has sharpened our understanding of the impact of inequitable access to healthcare and health information on outcomes, as well as the role of technology in driving behaviour change. As a university, we are deeply committed to building greater understanding of the determinants of disease so that we can play our part in improving health in Ireland and globally. We know that Dr Salvo shares that goal and we are delighted to have the opportunity to recognise her enormous and continuing contribution to public health today."
Dr Karen DeSalvo is the fifth recipient of the Emily Winifred Dickson Award. She joins Professor Louise Richardson, the first female Vice Chancellor of the University of Oxford; Mary Robinson, President of the Mary Robinson Foundation for Climate Justice, former President of Ireland and former United Nations High Commissioner for Human Rights; Samantha Power, Head of US Aid and former US Ambassador to the United Nations; and Her Excellency Ellen Johnson Sirleaf, Former President of Liberia, Africa's first female head of state and Nobel Peace Laureate.
A legacy of impact
RCSI is exclusively focused on education and research to drive improvements in human health worldwide. The university is a signatory to the UN Sustainable Development Goals Accord and is ranked in the world top 50 for its contribution to UN Sustainable Development Goal 3 in the Times Higher Education Impact Rankings 2022.
The university has established a new School of Population Health to address the world's population health challenges through research, education and collaboration. The School integrates multiple scientific disciplines, including public health and epidemiology, data science, health psychology, healthcare outcomes and global surgery. It builds on the university's legacy of impact in population and public health, which can be traced back to the 1840's when Sir Charles Cameron, former RCSI President, campaigned to improve public health in Dublin.