Research Day 2023 celebrates research and innovation advances at RCSI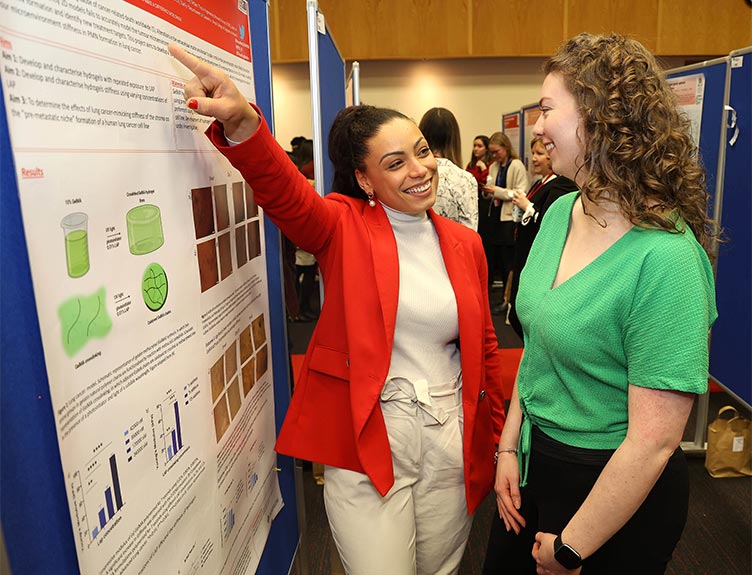 Researchers at RCSI University of Medicine and Health Sciences will showcase their work at the 2023 RCSI Research Day today. The event gives researchers across the career spectrum a platform to share their research with the wider RCSI community.
Research Day provides RCSI scientists with the opportunity to present their most recent research findings and emphasises the importance of research and innovation to drive improvements in human health within the University.
The Research and Innovation Showcase session recognises outstanding RCSI research outputs and highlights world-class clinical research taking place at RCSI.
Selected presentations from undergraduate, early career and postgraduate researchers will explore a range of topics, including the genetics of epilepsy, the development of scaffolds for bone and spinal cord repair as well as cystic fibrosis and psychosis.
Invited speakers
This year, the Distinguished Speaker for the John J. Ryan Lecture is Professor Douglas R. Green from St Jude Children's Research Hospital, Memphis Tennessee. Professor Green will deliver the lecture on 'Perchance to Dream: Neuroinflammation and Sleep'.
Dr Avril Kennan, Chief Executive Officer, Health Research Charities Ireland will also join Dr Michelle Flood, RCSI School of Pharmacy and Biomolecular Sciences for a session discussing the importance of public patient involvement (PPI) in research and how this is implemented in RCSI.
Recognising achievements
To conclude the day, awards will be presented to researchers for their outstanding achievements in research and innovation, including awards for invention disclosures; research impact and citations; and prizes for Research Day presentations and posters.
As part of the Vice Chancellor Innovation Awards, the Clinician Innovation Award will be presented to Professor Karen Boland, Consultant Gastroenterologist at Beaumont Hospital and Associate Professor of Medicine at RCSI.
The award recognises her work on a collaboration with medical nutrition company Nualtra Ltd on assessing the impact of a low-volume, well-tolerated supplement for patients with end-stage liver disease which can target the effects of sarcopenia and ideally reduce the life-limiting complications of cirrhosis.
Professor Leonie Young and Professor Arnold Hill, RCSI Department of Surgery and Beaumont RCSI Cancer Centre, along with Dr Damir Vareslija, School of Pharmacy and Biomolecular Sciences will be awarded the Commercialisation Innovation Award for commercialisation of their research through the RCSI spin-out company PrOBMet, which is developing targeted treatments for breast cancer brain metastatic patients.
Exciting research
The Industry Engagement Innovation Award will be awarded to the RCSI Skin Wounds and Trauma (SWaT) Research Centre, led by Professor Zena Moore, Director; and Professor Declan Patton, Deputy Director, for their collaboration with Spectral MD. The project is investigating the clinical potential of Spectral MD's DeepView technology in the assessment of chronic wounds.
Professor Fergal O'Brien, Deputy Vice-Chancellor for Research and Innovation at RCSI, commented on the event, saying: "Research Day is a fantastic opportunity to showcase and celebrate the exciting research being undertaken by RCSI academic staff, early career investigators, postgraduate and undergraduate students.
"The day also provides a platform to highlight the innovative industry spin-out companies and collaborations we are proud to support which are driving advancements to shape the future of healthcare and create positive change in the lives of patients."