Five artists shortlisted for 2023 RCSI Art Award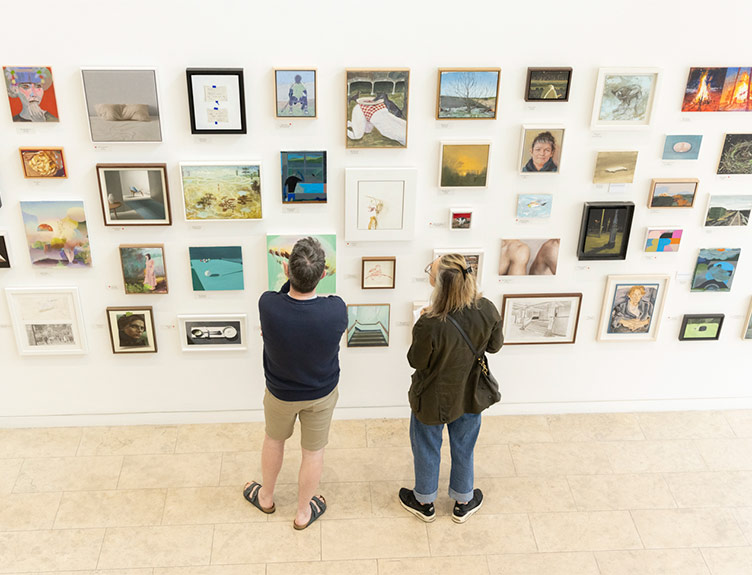 The shortlist for the 2023 RCSI Art Award in association with the RHA and The Irish Times has been announced
Now in its eighth year, the RCSI Art Award in association with RHA and The Irish Times was established in 2016 to celebrate the long-standing association between art, medicine and wellbeing.
The five pieces shortlisted for the 2023 Award were selected from more than 560 works on display at the 193rd RHA Annual Exhibition, Ireland's largest and longest running exhibition of visual arts.
The shortlisted works are Humans by Liam Belton RHA; Listener by Rachel Joynt RHA; Newborn (The hardest day of your short life yet) by Stephen Murphy; Bedside Table by Niamh Porter; and Martina Prendergast, 12th October 1964 – 3rd July 2022 by Blaise Smith RHA.
All works of art, in any medium, selected for the 193rd RHA Annual Exhibition were considered for the RCSI Art Award. The winner will be announced before the Exhibition closes. The recipient will be awarded €5,000 and the RCSI silver medal. The successful artist will also be invited to respond to calls for new commissions by RCSI as they arise from time to time.
Professor Cathal Kelly, RCSI Vice Chancellor, said: "As a focused health sciences institution, RCSI believes that the arts can enrich the learning environment for our students and enhance the culture and connectivity of our communities. The RCSI Art Award looks outward to celebrate the relationship between art and healing, all the while encouraging artistic talent and supporting more established artists. Now in its eighth year, the RCSI Art Award continues to deliver an outstanding shortlist of artworks which inspire those who view them. We look forward to announcing the winner this summer."
The RCSI Art Award also pays tribute to the common heritage of RCSI and the RHA. Both have Georgian origins and are 32 county bodies with educational roles, while RCSI was occupied and the RHA destroyed during the Easter Rising of 1916.
The RCSI Art Award will continue to play an important role in the RCSI Arts Strategy 2023-2025.
The RCSI Art Award Selection Committee includes: Professor Laura Viani, President, RCSI; Abigail O'Brien, President, RHA; Patrick T. Murphy, Director, RHA; Hugh Linehan, Arts and Culture Editor, The Irish Times; Dr Abdul Bulbulia, RCSI Alumnus and founder of Waterford Healing Arts; Aine Gibbons, Director of Development, Alumni Relations, Fellows and Members, RCSI; Professor Clive Lee, Professor of Anatomy, RCSI and RHA; Liz Hughes, Head of Equality, Diversity and Inclusion, RCSI; Louise Loughran, Chief Communications Officer, RCSI; Umulkhaira Muhammed, President of RCSI Student Art Society.
The 193rd RHA Annual Exhibition is open to the public until 30 July 2023. The Exhibition also marks the launch of the RHA bicentenary celebrations. For further information visit the RHA website.