Sporting history
RCSI and rugby
The profession of medicine has had a long association with the sport of rugby. In total, 201 of the 980 Irish international players up to the year 2000 were medical doctors.
The first RCSI associate selected to play for Ireland was consultant Sir William Watson Pike who won the first of five caps at fullback against England on 24 March 1897 at Kennington Oval.
Noted RCSI Alumnus, Felipe Contepomi, is both a medical doctor and has had a hugely successful rugby career. He has captained his home country, Argentina, in international fixtures, played in four World Cups and was nominated for International Rugby Player of the Year in 2007, the same year he graduated from RCSI with a Bachelor in Medicine. In 2017, Contepomi was inducted into the World Rugby Hall of Fame.
Although Contepomi has an impressive 87 international caps for his country, the most capped Irish RCSI graduate is James Daniel Clinch, who made 30 appearances between 1924 and 1931, an astonishing record for that era. Clinch toured with the British and Irish Lions in 1924 before settling in South Wales to set up a GP practice in 1938.
In 1930, two RCSI graduates were selected to play on the British and Irish Lions Tour to New Zealand and Australia: Morgan Patrick Crowe and Paul Finbarr Murray.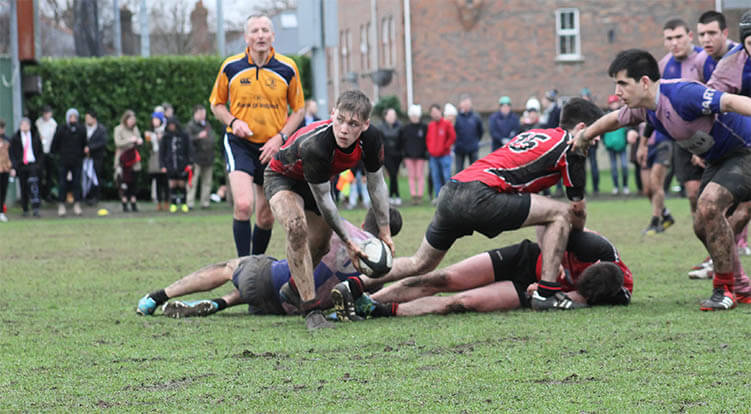 Crowe, had led Blackrock College to a Leinster Schools victory in 1925 before winning five Leinster Senior Cups with Lansdowne RFC. Unfortunately, he suffered a devastating injury in the Hospitals Cup which precluded him from participating in the tour. Crowe went on to become a national selector in the 1950s. His RCSI colleague, Patrick Murray competed in four test matches during the 1930 tour, including the famous victory over New Zealand on 21 June 1930. Murray subsequently became President of the IRFU1965/66.
The next RCSI man to be honoured by a Lions Tour was Daniel Karl Mullen, who captained the 1950 tour of New Zealand and Australia. Prior to this in 1948, Mullen led Ireland to their first ever Grand Slam victory aged just 21, followed by a successive win in 1949, winning the Triple Crown.