What will you study?
RCSI Bahrain's medical programme is a core five-year programme.The six-year programme provides a one-year preparation stage in advance of entry to the core five-year programme.
The Medicine programme for School Leavers and Mature Entry students is outlined below:
Foundation Year (two semesters)
Year 1 (two semesters)
Year 2 (two semesters)
Year 3
Year 4 (Senior Cycle 1)
Year 5 (Senior Cycle 2)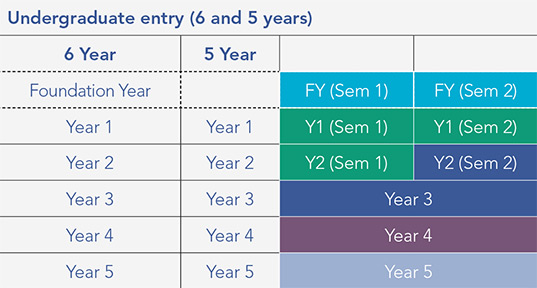 In Foundation Year and Year 1, you will be taught in a mixture of lectures and small group teaching involving tutorials, anatomy practicals and clinical skills training.
In Year 2 and Year 3, you will participate in small group simulation scenarios with state-of-the-art simulators, progressing to Year 4 and Year 5, where you will be attached to consultant-led (senior physicians) teams in a hospital setting.
Throughout your studies you will be provided with continuous appraisal, mentoring and case presentations on an individual basis, along with frequent reviews of your clinical progress with senior clinicians in the clinical years.