RCSI and IRFU Charitable Trust mark pioneering research partnership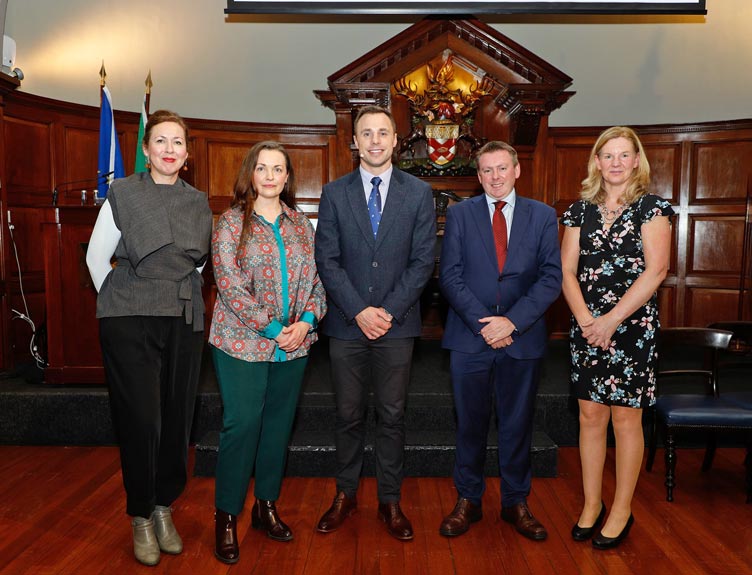 The progress of a significant research collaboration between RCSI and the IRFU Charitable Trust has been shared during an event celebrating the partnership.
Aimed at improving injury prevention and treatment, the collaboration is funding two pioneering research projects, which are supported by the Science Foundation Ireland AMBER Centre, Leinster Schools Rugby and World Rugby.
RCSI researchers were joined by Tommy Bowe, who hosted a special panel discussion with former players and practitioners about the potential impact of the research on training load insights and injury management.
Professor Helen French, Associate Professor and Louise Keating, Lecturer, RCSI School of Physiotherapy, are leading a research study into training load and injury in Leinster Schoolboys Rugby as part of the SCRUm Study, with Sarah Murphy, a PhD candidate at the School. The research is crucial to the future development of injury prevention strategies.
To date, 463 players from 16 schools involved in the Leinster Senior Cup and Vinnie Murray Cup competitions have participated in the study. A total of 61 match injuries and 23 training injuries were reported. Match injury incidence was 19.9 per 1000 match hours and training injury incidence was 0.7 per 1000 training hours. Tackling was the most injurious event in both matches and training with shoulder injuries being the most common type of reported injury.
Information gathered on training loads shows a variation across schools with differences in the frequency of training sessions between schools at different competition levels, however, findings show that the average training session duration was 78 minutes with average weekly training duration ranging from 140-315 minutes. The study has now moved to Phase 2 for 2022-23.
Professor Fergal O'Brien, Professor of Bioengineering and Regenerative Medicine at RCSI and Dr Michelle Flood, Senior Lecturer at the School of Pharmacy and Biomolecular Sciences and PPI Ignite Lead at RCSI, are leading the Spinal Cord Injury Research Project. The project is focused on the development of a novel multifunctional biomaterial implant to help repair the injured spinal cord, which may have the potential to revolutionise the way that spinal cord injury is treated.
A further aspect of this research is the participation of the Patient and Public Involvement (PPI) Advisory Panel members, including seriously injured players support by the Charitable Trust, who meet biannually to review progress and provide input on project planning and execution.
Speaking as part of the panel, Mr Cliff Beirne, Consultant Maxillofacial Surgeon and Head of Care with the IRFU Charitable Trust Committee, commented: "The partnership between RCSI and the IRFU Charitable Trust shows the power of innovation and the potential positive impact that research conducted in consultation with players and the public may have in improving injury prevention and treatment."