Clubs
RCSI's 35 clubs and sports teams are open to all students and regularly welcome new members, so whatever the sport and whatever your competency level, there are plenty of opportunities to stay active.
Archery: Archery is one of the most popular clubs. Unleash your inner Katniss Everdeen twice a week at training, or compete at the various intervarsities and competitions throughout the country.
Badminton: The popular RCSI Badminton team train once a week and regularly welcome new members. In 2015 the team won the National Badminton Intervarsity.
Basketball (Women): The RCSI Women's Basketball team practise once a week and play 4-6 games a season. Players from beginners to pros are welcome to join with lessons offered twice a semester for newcomers.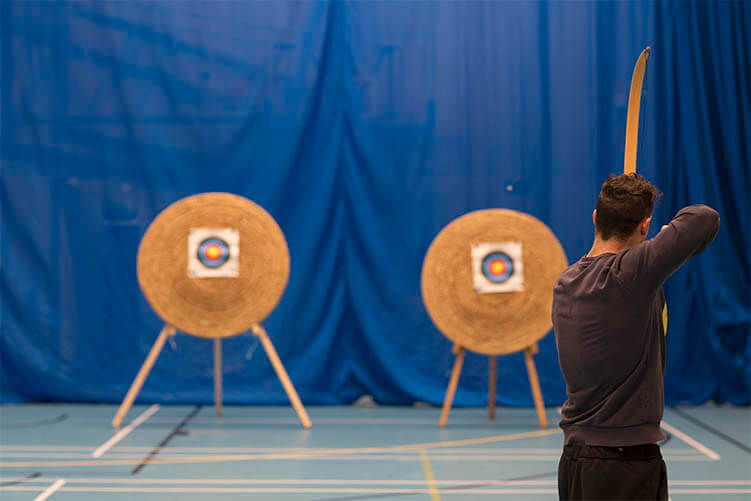 Basketball (Men): The Men's Basketball team practise once a week and play pick-up basketball around four times a week which all students are welcome to attend.
Climbing and Mountaineering: Whether you want to spend time hiking, learn the basics of rock climbing or just make some new friends, fans of the great outdoors are always welcome at the RCSI Climbing and Mountaineering Club.
Cricket: The second most popular sport in the world and a favourite amongst RCSI students, the Cricket Club compete in a number of intervarsity tournaments throughout the year, including the Colles Cup against Trinity College Dublin.
Cycling: Cycling enthusiasts are welcome to join the Cycling Club. Whether you want to cycle competitively or would prefer a leisurely bike ride around Phoenix Park, this club has something for everyone.
Equestrian: The Equestrian Club offers lessons, ride outs and weekend trips. You'll get unbeatable experiences hacking or riding cross-country in the most scenic places Ireland has to offer.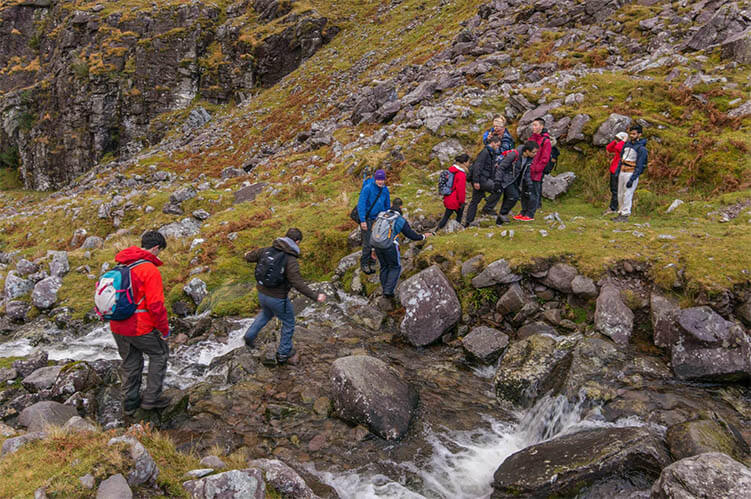 Five-a-side Football: The Five-a-side team trains, both indoors and outdoors, twice a week and regularly participates in intramural competitions.
GAA (Women): RCSI has a strong Ladies GAA team, which trains in Clanna Gael Fontenoy GAA Club twice a week, with plays games throughout Leinster and Ireland.
GAA (Men): All-Ireland champions for 2017 in the HE GAA Senior Football League Division 3, the popular RCSI Men's GAA team regularly plays throughout Ireland.
Golf: RCSI golf team are members of Portmarnock Golf Club. They play in various intervarsity tournaments as well as staff vs student competitions.
Gymnastics: Want to be flexible and agile? Want to be able to balance on your hands? Gymnastics is the club for you. The club practise twice a week and welcome all levels of gymnasts.
Hockey: Our hockey teams train in Railway Union, Sandymount. There is a men's and women's team with both competing in a variety of national tournaments and intervarsity competitions. They also participate in annual mixed intervarsity tournaments.
Indoor Hockey: The Indoor Hockey Club train once a week on campus and welcome anyone with an interest to join in.
Judo: This dynamic combat sport is practised in the RCSI Sports Hall, the club caters for all levels, from beginners to international competitions.
Karate
Kickboxing: Whether you're interested in improving your fitness levels or want to learn some self-defence skills, the RCSI Kickboxing Club run free regular kickboxing and boxercise classes for all fitness levels and ages
Kitesurfing/Watersports: Our water sports club organise various outdoor excursions, whether kitesurfing at Bull Island or surfing in Bundoran, all levels of experience are welcome. This club is primarily social and combines activities, an opportunity to explore Ireland while enjoying life on the water.
Netball: Although it is more commonly played in Commonwealth countries, netball is gaining a fanbase in Ireland and RCSI is proud to be part of this growth. The passionate RCSI Netball Club trains weekly and play competitive games every Wednesday and regularly welcomes new members.
Polo: The RCSI Polo Club is a varsity club, which is a social and competitive group of individuals with a shared passion for the sport. The club offers a rare and exciting experience for students – of all skill levels – to participate in a fun, physical activity in which every participant can expect to learn a variety of unique skills.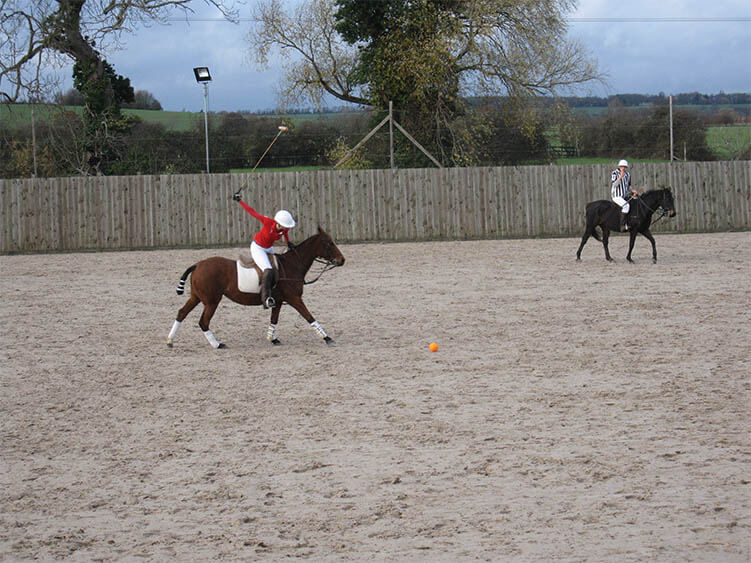 Rugby: RCSI RFC – affectionately known as 'Surgeons' – is first and foremost a social club. The club currently competes in Division 3 of the Leinster League and consists of players from all over the world; some of whom have played competitive rugby in Division 1 of the All-Ireland League and others who have never kicked a rugby ball – all are welcome.
Running: Whether you want to run the Boston Marathon or you're taking on your first 5k, the RCSI Running Club caters for all. The club has a professional running coach who hosts a 'couch to 5k' and '5k plus' programme for beginners. While experienced runners can take part in fun runs, races and marathons around the country and further afield.
Soccer: For over 100 years, the RCSI Men's Soccer Club has represented the College in intervarsity competition. Whether you're looking for a high-level of intercollegiate competition or a fun kick around, the Soccer Club has something for everyone.
Softball: Improve your softball skills, make new friends and have a good time at the Softball Club. Members of all ages are welcome to join this fun bat and ball sports club.
Squash: Regular competitors in the squash intervarsity tournament, the RCSI Squash Club practise in the regularly and welcome new members with an interest in the sport.
Swimming: The Swimming Club offers casual swimmers the opportunity to use swimming lanes in the local swimming pool as well as coaching for beginners to competitive swimmers.
Table tennis: Whether you want to play in doubles or as a single, the Table Tennis Club offers you the opportunity to play in this fast-paced competitive sport.
Taekwondo: The RCSI Taekwondo Club meets three times a week to practise this Korean martial art form focusing on speed and agility.
Tag Rugby: The RCSI Tag Rugby is a mixed club that plays in weekly leagues and makes an annual trip to Kerry for the Banna Beach Tag tournament. With over 30 active members, the club is always looking for keen taggers.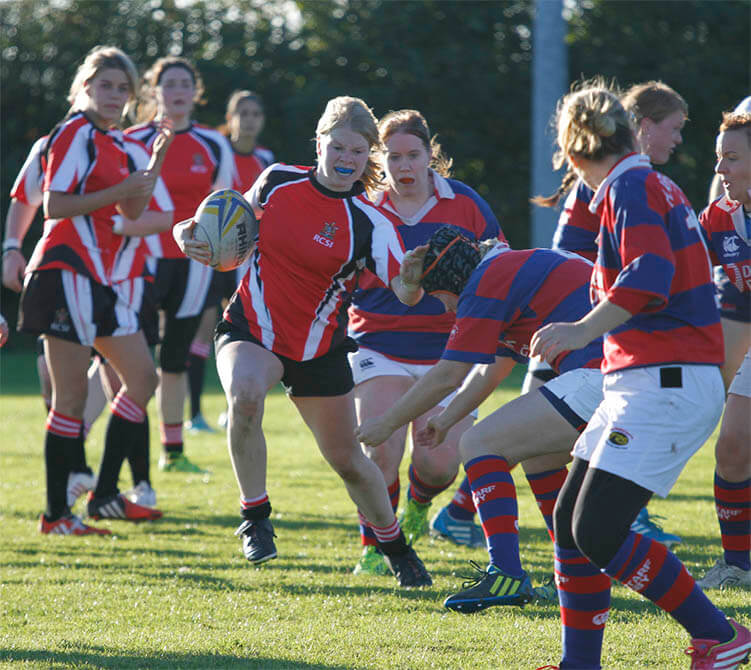 Tennis: Our tennis courts in Dardistown host the RCSI Tennis team with weekly lessons more centrally based.
Volleyball (Women): The RCSI Ladies Volleyball team consists of members with varying backgrounds and ages that come together with enthusiasm and a love for the sport. In recent years the team has developed significantly and now regularly places highly in the intervarsity league.
Volleyball (Men): The Men's Volleyball team encourages signups from players of all skill levels. Like their female counterparts, the Men's Volleyball team has also grown in recent years and is highly competitive on the intervarsity circuit.
Yoga: Whether you're new to yoga or have been practising for years, all students and staff are invited to attend bi-weekly classes that focus on mindfulness, flexibility and the promotion of good posture.