Alumni awards
Inspiring Excellence
Launched in 2018, the Inspiring Excellence initiative aims to inspire current students and visitors to the University by showcasing the outstanding achievements of some of our Medicine and Nursing graduates in the form of a gallery of portraits along the walls of the campus.
This academic year, 2022 – 2023, Dr Mona Albanna (class of 2012, MB BCH BAO) and Ms Myrna Traboulssi (class of 2018, MSc Nursing) received the Inspiring Excellence Award in honour of their successful career progressions. Their portraits were unveiled during the Class of 2012 10-Year Reunion Event on Thursday, 24 November 2022.
Dr Albanna is currently a Vascular Neurologist/Neuro-hospitalist at Cleveland Clinic, USA and has obtained her MSc in "Global Cognition, Metacognition, and Executive Function in a Stroke Population" from RCSI in Dublin. She also held the positions of Vascular Neurology Fellow in the Department of Neurology at Yale University, USA and Neurology Resident in the Department of Neurology at University of Minnesota, USA. Dr Albanna is also Board Certified in Neurology, The American Board of Psychiatry and Neurology and has contributed to 16 research publications in the field of neurology.
Ms Traboulssi is a Registered General Nurse (RGN) with over 28 years of experience in professional nursing, health care research and leadership and currently holds the position of Head of Nursing at Awali Hospital. She also worked as the manager of the critical care and High dependency units (HDU) and medical-surgical nursing in private and National Health Service (NHS) sectors in the United Kingdom and Bahrain. In addition, she worked as a clinical educator and mentor where she supported undergraduate students on clinical placements in hospitals as well as nursing staff, as part of continuing professional development. Ms Traboulssi is currently pursuing the Fellowship in Nursing and Midwifery (FNMRCSI) at RCSI in Dublin.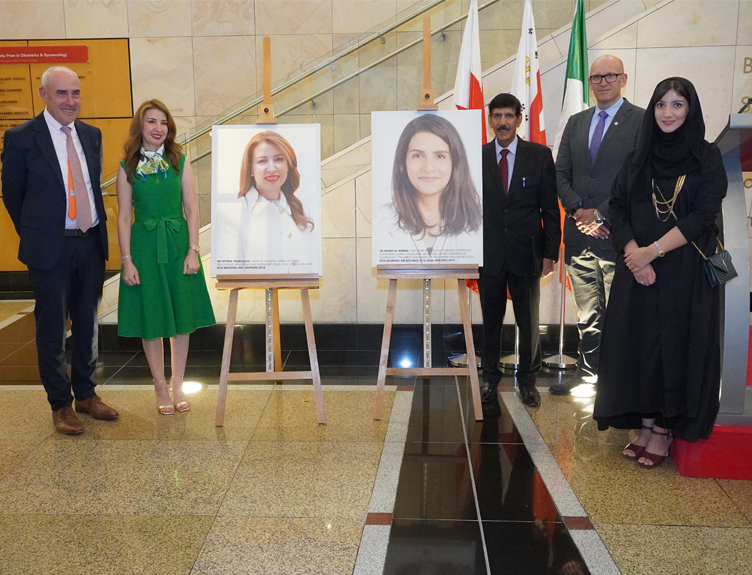 Previous Inspiring Excellence Award Recipients:
Ms Eman Aljahmi (class of 2018) – Inspiring Excellence 2018
Ms Asma Alnajjar (class of 2010) – Inspiring Excellence 2018
Dr Aymen Bukannan (class of 2010) – Inspiring Excellence 2018
Dr Sabrina Berdouk (class of 2013) – Inspiring Excellence 2019
Ms Nazia Alamri (class of 2014) – Inspiring Excellence 2020
Captain Dr Abdulrahman Alshafei (class of 2011) – Inspiring Excellence 2020
Dr Ali Abdulnabi Mohamed (class of 2013) - Inspiring Excellence 2021
If you would like to nominate a fellow RCSI Bahrain alumnus for the Inspiring Excellence award, please email alumni@rcsi-mub.com.
RCSI Bahrain Intern Award
Every year since 2015, an intern is selected to be the recipient of the Intern Award after an extensive evaluation. The selection of the Intern Award winner is based on information received by consultants, residents, co-workers, colleagues, and fellow peers through a Multi-Source Feedback (MSF) evaluation. The feedback focuses on clinical skills, communication, collaboration with other healthcare professionals, professionalism, and patient management which is then collated and analysed by the Quality Enhancement Office.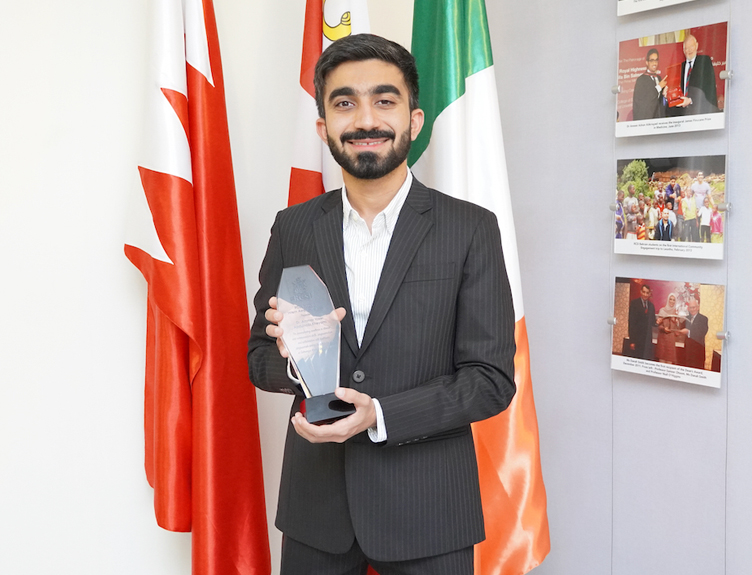 Previous Intern Award Recipients:
Dr Turki Alkhaldi (class of 2014) – 2015 recipient
Dr Ahmed Nasser (class of 2015) – 2016 recipient
Dr Zainab Toorani (class of 2016) – 2017 recipient
Dr Ali Marzuk (class of 2017) – 2018 recipient
Dr Hasan Altahoo (class of 2018) – 2019 recipient
Dr Manaf Yusuf (class of 2019) – 2020 recipient
Dr Rand Abdulrahman (class of 2020) – 2021 recipient
Dr Ammar Kheyami (class of 2021) – 2022 recipient