Higher Surgical Trainees take part in simulation-based sinus surgery workshop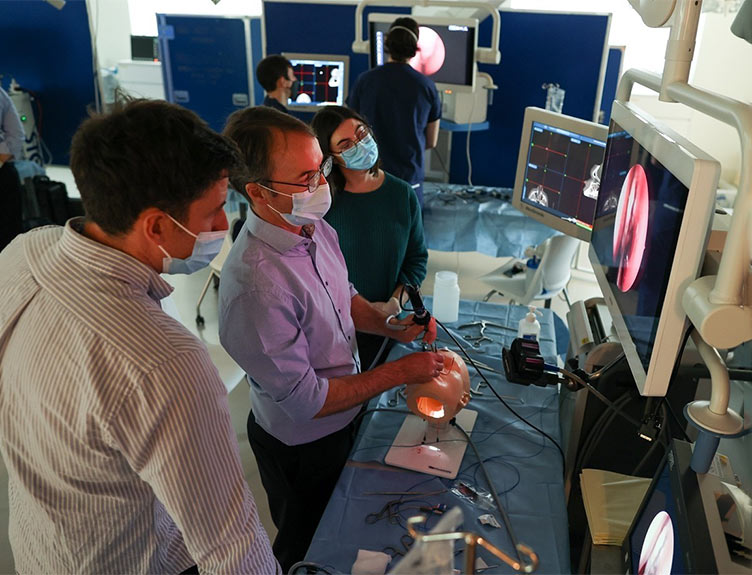 Twenty-five higher surgical trainees have recently completed a simulation-based sinus surgery workshop at RCSI.
Running for the second year, the workshop, initially developed as a solution to training during the COVID-19 pandemic, gave the participants the opportunity to learn techniques in a wide range of endoscopic sinus surgical procedures, in a simulated environment.
The workshop was open to senior trainees on the Irish Otolaryngology Training Programme. It was hosted by Ms Mona Thornton, Consultant Otolaryngologist St Vincent's University Hospital and The Royal Victoria Eye & Ear Hospital, and Mr Peter Lacy, Consultant Otolaryngologist at Beaumont University Hospital, Dublin, along with ten consultant rhinology specialists from around the country.
The surgical procedures were demonstrated on a simulation model based on real patient CT sinus data. The model was made using a variety of materials and techniques to replicate different anatomical structures including bone, skin and nasal mucosa. Trainees were shown how to perform surgical procedures and other important areas, including ergonomics, correct use of scopes and instruments and operating theatre setup, were also demonstrated.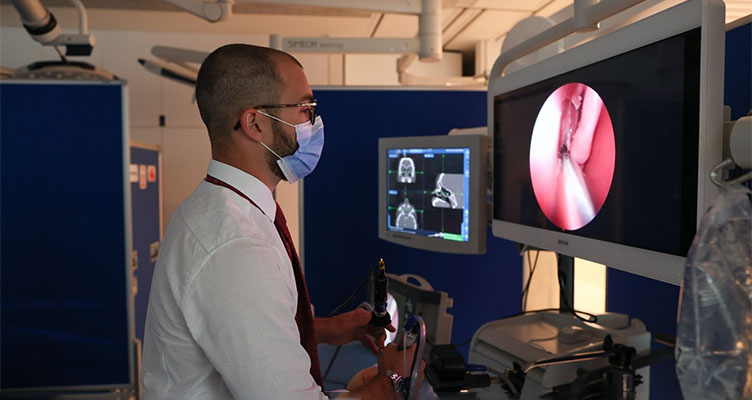 Ms Mona Thornton, said: "This model has the potential to transform how we can deliver training to our future trainees by bypassing some of the limitations of traditional cadaveric training. It affords wider opportunities for training in the future."
Mr Peter Lacy said: "While the gold standard for teaching endoscopic sinus surgery is cadaveric dissection, continual improvements in anatomical models and simulation provide increasingly realistic clinical scenarios, affording trainers the opportunity to demonstrate basic and advanced surgical procedures. The ability to combine the most modern surgical instruments, including powered, navigable debriders and drills, with these models allowed for very realistic training."
Ms Thornton said: "The future of simulation training in rhinology is very exciting. Through further collaboration with Medtronic and partnership with Touch Surgery, there are now opportunities for hospital-based training both at an individual level and in a multidisciplinary setting. Remote learning is also possible and proved valuable last year when we were unable to invite international colleagues to our annual course."
The workshop was supported by consultant faculty, staff at the RCSI Simulation Centre, Irish Hospital Supplies and Medtronic. RCSI has been at the forefront of educating healthcare professionals for over 230 years, beginning as the home of surgical training in Ireland and now offering a range of programmes for surgeons and healthcare professionals across the spectrum of medicine and health sciences.
The National Surgical Training Programme (NSTP) is an eight-year training programme intended for medical graduates who have completed their internship and wish to pursue a career in surgery. While training primarily takes place in the hospital, trainees are required to attend mandatory training days in the RCSI as part of their curriculum. RCSI's simulation centre contains a virtual hospital with wards, outpatients' clinics, birthing suite and a full operating theatre and trauma facility.