The National Surgical Training Programme (NSTP) is an eight-year training programme intended for medical graduates who have completed their internship and wish to pursue a career in surgery.
While training primarily takes place in the hospital, trainees are required to attend mandatory training days in the RCSI as part of their curriculum.
Core Surgical Training
Core Surgical Training (CST) is a two-year programme undertaken before entering the final stage of training (Specialty Training). During this time you will work as a senior house officer (SHO) in approved training hospitals under the supervision of an approved consultant trainer.
Read more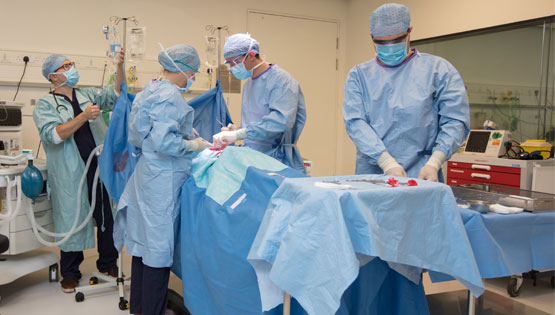 Your journey
The applications process for CST opens in October and closes in November each year. Applicants are assessed for their surgical aptitude and clinical acumen; academic performance; and general suitability.
Selection
CST begins with a three-day intensive Surgical Bootcamp with asynchronous and synchronous online sessions. You will receive intensive tuition in basic surgical skills and basic management principles for surgical patients.
Surgical Bootcamp
Your first year (ST1) consists of six months in general surgery and six months in another specialty under the supervision of approved consultant trainers. During this time your progression is continually assessed. In your second year (ST2), you will begin 'basic' training in your chosen specialty.
Core Surgical Training
During CST you are expected to take and successfully pass both parts of the Membership exam of the Royal College of Surgeons (MRCS). This has to be completed before the specialty selection interview which generally takes place in March of ST2.
MRCS exams
Progression from ST2 to ST3 (Specialist Training) is a competitive process and is based on clearly defined performance metrics during CST and a specialty selection interview.
Progression assessment
Once you have successfully completed both years of CST, you will receive a Certificate of Completion of Core Surgical Training (CCST).
Certification
After CST, doctors who are successful in the ST3 progression assessment can commence Specialist Training, beginning with Intermediate Stage I (ST3-4). During this stage you will learn the basic concepts and start to develop decision-making, clinical and technical skills in elective and emergency surgery in your chosen specialty.
Intermediate Stage I
Intermediate Stage II or ST5 and ST6 will see you develop more advanced skills in the areas of elective and emergency surgery in your chosen specialty.
Intermediate Stage II
During ST7 you will sit your intercollegiate specialty exam (FRCS). The FRCS exam is a summative assessment in each of the 10 surgical specialities.
FRCS exams
During the last two years of your specialty training (ST7 and ST8), you will sub specialise and gain competencies in one of the other special interest areas of your chosen specialty. During this stage you must also complete your Fellowship exams (FRCS).
Final stage
Certificate of Satisfactory Completion of Surgical Training (CSCST) is awarded to trainees who have successfully completed the six years of training and the FRCS exams.
Certificate of Completion