Diagnostics
Objective medication adherence calculator – a tool to aid patient adherence and optimise drug dosage
Assessing adherence to medication is an essential element in the ongoing treatment of patients with chronic disease as well as in the development and trialling of new drugs. RCSI has developed a novel data-driven decision support tool for clinicians to improve patient adherence and dosage calculations in chronic conditions such as COPD and asthma.
Objective medication adherence calculator tech summary
pdf | 501.2 kb
---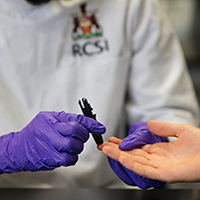 Maturity-onset of diabetes of the young (MODY)
Recognising the current practice for MODY diagnosis is sub-optimum as it often fails to separate MODY patients from early-onset Type 2 diabetic patients, a team of clinicians and research scientists at RCSI have developed and patented a highly-sensitive blood test that can identify the majority of MODY patients, namely HNF1a-MODY patients.
Maturity-onset of diabetes of the young tech summary
pdf | 262.5 kb