Meet the team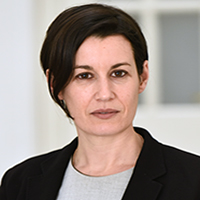 Dr Aoife Gallagher
Head of Innovation
Email: aoife.gallagher@rcsi.com
Tel: +353 1 402 5132
Dr Aoife Gallagher has been Head of Innovation at RCSI since 2014. As Head of the innovation team she is responsible for intellectual property identification, protection and commercialisation through license and spin out creation, along with industry engagement and consultancy.
A registered technology transfer professional (RTTP), Aoife has worked in knowledge transfer for over 10 years, prior to which she worked as head of applications in a startup company.
Aoife has a PhD in Immunology from the University of Edinburgh and a degree in Genetics from Trinity College Dublin.
---
Dr Seamus Browne
Head of Industry Partnerships
Email: seamusbrowne@rcsi.com
Tel: +353 1 402 8651
Dr Seamus Browne is Head of Industry Partnerships at RCSI. Since taking up this position in January 2015, Seamus has played a key role in delivering a step-change in RCSI's industry engagement activities. His current focus is on building large scale strategic partnerships with industry aligned to RCSI's research strengths.
Between 2007-2014, Seamus worked as a technology transfer officer at the University of Limerick (UL) where he led a significant number of high-value industry engagement and research commercialisation agreements. Prior to UL, Seamus completed a PhD at Trinity College Dublin before undertaking a postdoctoral fellowship. During this time, he founded and managed two start-up companies and has completed an MBA from the UCD Michael Smurfit Graduate School of Business.
---
Dr Derek John
Case Manager
Email: derekjohn@rcsi.com
Tel: +353 1 402 2567
Dr Derek John is the Technology Transfer Case Manager in the Office of Research and Innovation. A registered technology transfer professional (RTTP), Derek is responsible for the capture, assessment, protection and commercialisation of intellectual property arising from RCSI research. Derek is a medicinal chemist by training with over 15 years' industry experience of drug discovery in biotech and big pharma.