Successful projects
All partnership projects are built on RCSI's core values – respect, collaboration, scholarship and innovation – where students and staff will engage in open and honest dialogue, confident in the knowledge that the perspectives and expertise of both students and staff are equally valued and discussions between partners will be treated with fairness and respect.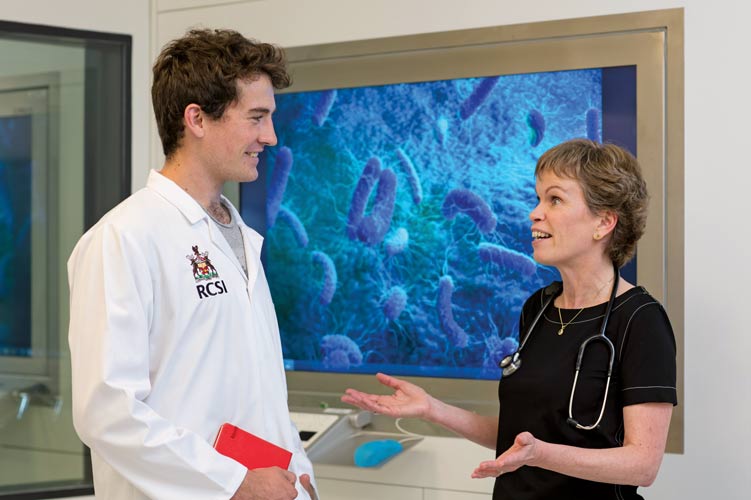 The following are examples of student-staff partnership projects that have resulted in positive change:
School of Medicine Academic Programme – 36 students actively engaged with Faculty to co-design and co-develop the revised School of Medicine Academic Programme.
Promotion of positive sexual health – A staff-student forum was established to promote positive sexual health and behaviour at RCSI. This has resulted in a number of key advancements which included the development of a Sexual Misconduct Policy, a revised HR Dignity and Respect Policy, plans for staff disclosure training, qualified personnel to deliver Active Bystander Intervention Training, plans for consent training, and a number of student-led campaigns to promote positive sexual health and behaviour across RCSI.
MyRCSI app – The MyRCSI app, co-developed by students and staff, provides students with one central location to access their digital services, such as Moodle, library, email, support services and access to examination results.
RCSI Peer to Peer Programme – Students and staff worked in partnership to expand the RCSI Peer to Peer (P2P) Programme to include personal support/referral to services and peer mentoring, e.g. during orientation and in preparation for USMLE and OSCE examinations. Over 250 students from the Schools of Medicine, Pharmacy and Physiotherapy participate as peer mentors in this peer-led teaching and leadership programme.
CoMPPAS Student Assistance Programme – The RCSI CoMPPAS Student Assistance Programme was co-developed by students and staff to complement and extend the scope of existing personal support services. These now include anytime access to information and counselling support services (both telephone and face-to-face) and an online personal well-being portal 24 hours a day, 365 days a year from anywhere in Ireland or abroad for students and their families.
RCSI Student Leadership Development Programme – Students and staff worked in partnership to co-design and co-develop this programme. The programme's aim was to equip students with an understanding of the core concepts of leadership to support them in their leadership roles. The programme ran over four weeks and comprised four main sections: developing influential leadership skills; equality, diversity and inclusion; self-care and resilience; and data protection. Students who successfully completed the programme received RCSI Certificates of Achievement and digital badges.
"In our roles as President and Vice-President of the RCSI Research Skills Society, we put forward a proposal to create a remote research programme for RCSI students and principal investigators in light of the unfortunate cancellation of the RCSI Research Summer School 2020 due to the COVID-19 pandemic.
We partnered with key staff to help further develop the initiative and then successfully coordinated and implemented the programme. We were so pleased that we were able to recruit 30 principal investigators who then matched with 45 undergraduate students.
The end result was a vibrant remote research programme where students, staff and RCSI benefitted during the summer of 2020."
Carole Rizkala and Katia Yazji Lynn, President and Vice-President, RCSI Research Skills Society