Successful projects
All partnership projects are built on RCSI's core values – respect, collaboration, scholarship and innovation – where students and staff will engage in open and honest dialogue, confident in the knowledge that the perspectives and expertise of both students and staff are equally valued and discussions between partners will be treated with fairness and respect.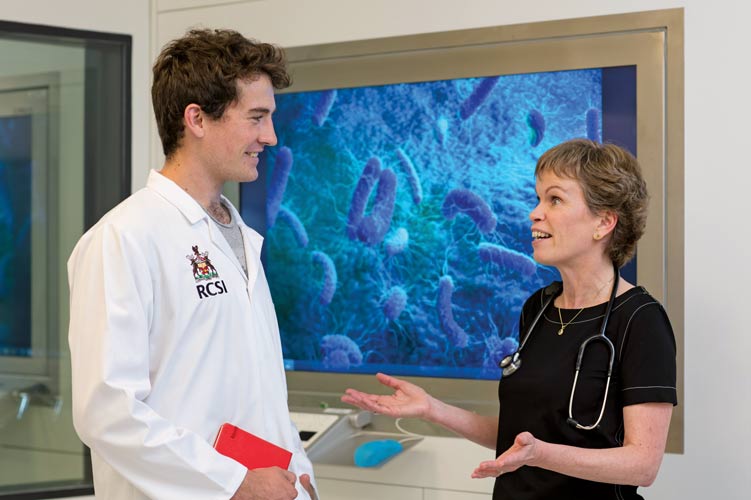 The following are examples of student-staff partnership projects that have resulted in positive change:
Design and development of a remote research summer programme: The President and Vice-President of the RCSI Research Skills Society put forward a proposal to create a remote research programme for RCSI students and principal investigators in light of the unfortunate cancellation of the RCSI Research Summer School 2020 due to COVID-19. They partnered with key staff to help further develop the initiative. This culminated in a vibrant remote research programme comprising 30 principal investigators supervising 45 Undergraduate students where the students, staff and RCSI all benefitted as a result during the summer of 2020.
Design and development of the revised School of Medicine academic programme: 36 students actively engaged with Faculty to co-design and co-develop the revised School of Medicine academic programme under the remit of the 'Transforming Healthcare Education Project (THEP)'.
Transparent application process to recruit student representatives onto RCSI committees: The SU Education Officer, in collaboration with the Student Council, the Deputy Vice-Chancellor for Academic Affairs' Office and chairs of RCSI committees, completed a comprehensive review of the terms of references of all RCSI committees to ensure students (Undergraduate and Postgraduate) are fully represented and are voting members where appropriate. This resulted in the establishment of an open and inclusive policy for student recruitment onto RCSI committees.
Promoting equality, diversity and inclusion in Undergraduate curricula: The StEP programme funded a number of student partnership projects in support of equality, diversity and inclusion in 2020-2021. One project resulted in the development of a bank of images representing clinical presentations on dark skin tones for incorporation into the RCSI curricula to better prepare students to accurately recognise and diagnose medical conditions in Black, Asian and Minority ethnic (BAME) patients. Another project introduced greater diversity into clinical cases by proactively recruiting diverse actors and surface models to support clinical case teaching.
Supporting simulation-based learning in RCSI Physiotherapy education: StEP-project funding resulted in a student-led exploration, in partnership with staff, of the use of simulation in the RCSI Physiotherapy curricula. The skills that students would like to practice in a simulated environment were identified. A mock clinical chart and blood and ABG flash cards were developed which will contribute to the bank of profession specific resources, supporting the further development of simulation-based learning in physiotherapy education.
Clinical skills and physical education within the local school community: In 2021, given COVID-related restrictions, a 'virtual' initiative was co-created by students and staff to provide clinical skills (pulse check) and physical education within local schools. The student-led team created an evidence-based educational resource for teachers. Each morning a physical activity challenge, demonstrated by students, was posted on social media for children to complete, recording their pulse before and after each activity. 150 primary school pupils from three DEIS schools benefited. Another StEP project resulted in the development and roll out of a six-week intervention programme to improve health literacy and motor skills in children in the local school community.
Online 'escape room' to support medical students' transition from pre-clinical to clinical environments: Another funded StEP project involved a design-thinking approach which brought medical students together with international researchers and designers to co-create and evaluate an online 'escape room' to support medical students manage the uncertainty they may meet when transitioning from pre-clinical to clinical learning environments. The overall project will culminate with its publication as an open educational resource under an international Creative Commons license, making this resource available to medical students and educators in different countries and contexts.
RCSI Career Readiness Centre: Students and staff worked in partnership to redesign the RCSI Career Readiness Centre (CRC). Through designing and administering a needs-assessment survey to the RCSI student population, researching careers' websites and collaborating with other universities, they consolidated the CRC to one platform, CareerHub, utilising survey results and student feedback to directly influence the redesign. 86% of respondents who completed a survey to evaluate the impact of the changes to the platform expressed confidence in making an appointment with a careers advisor compared to 24% via the old CRC.
CoMPPAS Student Assistance Programme: The SU Welfare Officer, in partnership with the CoMPPAS team, developed and launched the RCSI CoMPPAS Student Assistance Programme (CSAP) to complement and extend the scope of existing personal support services. These now include anytime access to information and telephone and local face-to-face counselling support services and an online personal well-being portal 24 hours a day/365 days a year from anywhere in Ireland or abroad for students and their families.
Mental Health Awareness Day: The PGSU, in partnership with the School of Postgraduate Studies, hosted a Mental Health Awareness Day which included talks on general health and well-being and on welfare support systems within and outside RCSI. The day also included mindfulness and yoga workshops.
Promotion of positive sexual health and behaviour in RCSI: A Staff-Student Forum was established to promote positive sexual health and behaviour in RCSI. This has resulted in a number of key advancements which included the development of a Sexual Misconduct Policy (Report & Support), a revised HR Dignity and Respect Policy, plans for staff disclosure training, qualified personnel to deliver bystander intervention training, plans for consent training, and a number of student-led campaigns to promote positive sexual health and behavior across the Institution.
MyRCSI app: The SU, in partnership with the IT Department, rationally designed and developed a 'MyRCSI' app to provide students with one central location to access their digital services including but not limited to Moodle, Library, email, support services and access to examination results.
Expansion of the RCSI Peer to Peer (P2P) peer-led teaching and leadership programme: The SU and the CoMPPAS team worked in partnership to expand the RCSI Peer to Peer (P2P) peer-led teaching and leadership programme, to include personal support/referral to services and peer mentoring e.g. during orientation, preparation for USMLE and OSCE examinations. Over two hundred and fifty students, from across the Schools of Medicine, Pharmacy and Physiotherapy, participate as peer mentors in this programme.
Guinness World Record: To celebrate the cultural diversity of the RCSI study body and to coincide this with the commemoration of the 80th anniversary of International Students' Day, a team of Undergraduate and Postgraduate students and staff (from the SU and PGSU teams, alongside members from Faculty, Student Services, IT, Communications, Estates and Building Services) worked in partnership to successfully break a Guinness World Record 'for the most nationalities in a health awareness lesson'. In total, 61 nationalities took part.