MyHealth Transition Year Programme
The RCSI MyHealth Transition Year programme takes place annually in RCSI Dublin and RCSI Waterford and offers transition year students the opportunity to experience what it is like to train and work as a doctor.
All sections of the programme are carried out by leading professionals in their respective areas with a wide variety of topics – including human anatomy, forensic medicine, surgery, obstetrics and paediatrics, psychiatry, emergency medicine, cardiology, respiratory disease, renal disease and family practice – being covered during the programme.
Places for both the Dublin and Waterford programmes are allocated by a schools lottery system and student selection is at the school's discretion; RCSI takes no part in the selection process.
Find out more about your future in healthcare in our So You Want To Be A Doctor? video series.
The Dublin MyHealth Transition Year programme offers a five-day experience for transition year students interested in a career in medicine, and takes place in RCSI, 26 York Street, Dublin 2. In 2019, the programme will run from Monday, 25 February to Friday, 1 March 2019.
The application process for the 2019 programme is as follows:
September 2018
10 September: Registration for schools opens. Details on how to register will be emailed to all schools.
28 September: Registration closes. All schools are placed in a lottery draw.
October 2018
12 October: Schools are notified if they have been successful in securing a place.
31 October: Final date for student registration. If a school fails to register a student by this date, the place will be re-allocated to a school on the waiting list.
Please note:
Successful schools are given one place on the programme and will be sent details on how to register their student.
Unsuccessful schools are placed on the waiting list, should places become available.
For more information on the Dublin programme, please email transitionyear@rcsi.ie.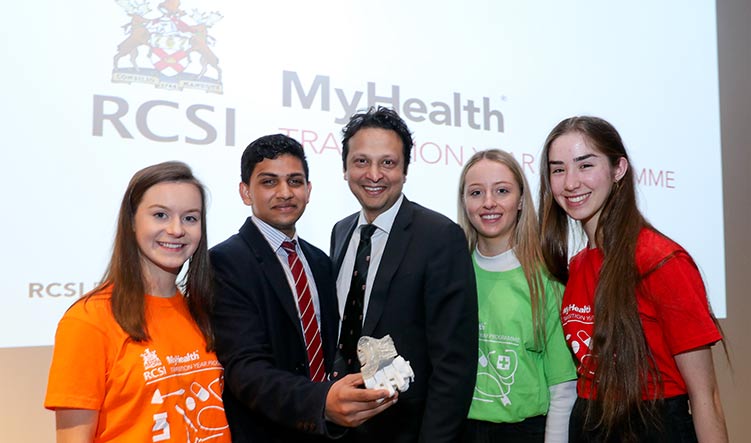 The Waterford MyHealth Transition Year programme offers a four-day experience for 120 transition year students from the south-east, interested in a career in medicine. The programme takes place in the HSE/RCSI Education Building at University Hospital Waterford and utilises the nursing school facilities in Waterford Institute of Technology (WIT) for practical sessions.
The 2019 programme will take place from Tuesday, 19 February to Friday, 22 February 2019.
For more information on the Waterford programme, please email joleary@rcsi.ie or carmelryan@rcsi.ie.
Frequently asked questions
What is this programme about? The MyHealth Transition Year programme is specifically designed to encourage post-primary students to consider careers in medicine.
Can I choose which week to go on the programme? No. The programme is run once per year at a time that suits the RCSI and Beaumont Hospital teaching scheduled. Due to the large number of teaching staff involved in the programme and the administrative tasks involved, it is not possible to offer alternative dates for the programme.
Will I get paid to take part? No. The programme is work experience, not a job, therefore there is no monetary reward.
I'm not sure yet if I want to do medicine in college; is there any point in my doing this programme? Yes, as long as you like science/medicine! It's usually a good idea to try something first before deciding if it's really what you want to do. You might discover a passion for a particular field of medicine during the programme and it would be a shame to miss the chance to try it out. You might find that it's not what you want to do after all but at least you would know this based on experience rather than an idea of what you think it would be like.
Will I be working on my own? No. All students follow a similar programme throughout the week so you will be a group of 180 students. For some of the practical classes you will be in smaller groups ranging from 15 to 25 or 30.
What if I don't understand what people are telling me about their work? Ask them to explain what they mean in a different way. Very often, teachers forget what it's like to know a lot less about their subject than they do now! Supervisors encourage students to ask questions to make sure they understand.

Will my teacher visit me during the programme? Teachers are welcome to visit students from their school while they are on the programme. To arrange a visit, contact transitionyear@rcsi.ie.
Can I attend the MyHealth programme even if my school has different dates for transition year work experience? Ask your school. Some schools are flexible about dates and if you have been offered a place on the programme, your school may give you permission to attend even when the dates they set for work experience are different.
Can my friend, who attends the same school, come on the programme with me? Places on the programme are very limited and we leave it to the individual schools to make the selection of which students will attend the programme.
Has anyone ever been removed from the programme? No, but we do reserve the right to remove students from the programme; however, this is not a decision that we take lightly. Examples of reasons to remove students from the programme include if a student breaches health and safety rules and puts themselves and/or others in danger or if a student is persistently disruptive. If a student is removed from the programme, we will not accept any future applications from students at the same school.
Are there any other reasons why students from a particular school would not be allowed to apply to the programme? Yes. We may make a decision based on other information, such as how the student handled their interactions with staff at RCSI and their behaviour while they were at RCSI and Beaumont Hospital.
What do students say about the programme? Quotes from past participant include:
"I really enjoyed the course especially the sessions where we could discuss the subjects in detail and ask our questions."
"This was a great week and provided me with lots of priceless information."
"I would definitely recommend this placement to others because it's interesting and you see expensive machines that do some amazing things!"