Five Honorary Fellowships conferred at RCSI Charter Meeting
Surgical
General news
Global surgery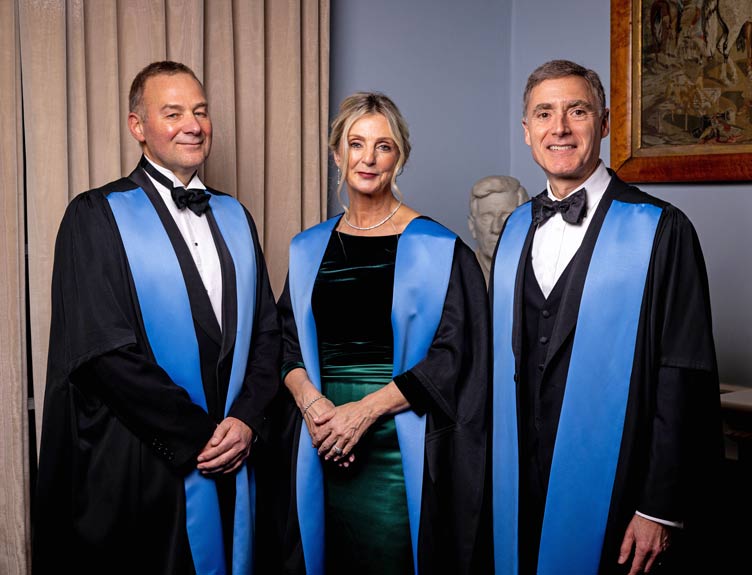 RCSI conferred five new Honorary Fellows at ceremonies which took place on Thursday and Friday night of Charter Week 2023.
The fellowships were awarded to Dr Vivian McAlister, Dr Ajit K. Sachdeva, Dr Maria B. Majella Doyle, Professor Richard Irving and Dr John G. Meara.
Honorary Fellowship is the highest distinction the College bestows, recognising outstanding achievement in surgery and other areas.
The Honorary Fellows
Dr Vivian McAlister is Professor Emeritus at Western University and an adjunct professor in its Department of History. Born in Dublin, Dr McAlister emigrated to Canada in 1981 where he is currently president of the James IV Association of Surgeons (Canadian section). Formerly, he was a general surgeon with expertise in transplantation and military medicine.
Delivering the citation, Mr Keith Synnott, RCSI Council Member, praised Dr McAlisters's many distinctions including the important role he played as member of the Royal Canadian Medical Service in the Canadian Armed Forces.
Dr Ajit K. Sachdeva is the Founding Director of the American College of Surgeons (ACS) Division of Education and also Adjunct Professor of Surgery at Northwestern University Feinberg School of Medicine. He has published more than 100 peer-reviewed papers on surgical and medical education topics and has been the recipient of the Distinguished Educator Award (Lifetime Achievement Award) of the Association for Surgical Education. The Honorary Fellowship citation was delivered at the ceremony by Professor Camilla Carroll, RCSI Council Member, who noted Professor Alderson's many achievements as a surgeon, educator and scholar.
Dr Maria B. Majella Doyle is a Professor of Surgery, Mid-America Transplant and Department of Surgery Distinguished Endowed Chair in Abdominal Transplant, Director of the HPB Fellowship Program, and Director of Liver Transplant in the Division of General Surgery, Section of Abdominal Transplantation, and Executive Vice-Chair of the Department of Surgery at Washington University in St Louis, as well as the Director of the Pediatric Transplant Programme at St Louis Children's Hospital and the Director of Faculty Development.
In his citation, Professor David Healy, RCSI Council Member, highlighted Dr Doyle's active role in US national transplant surgery and her inspiring mentorship of surgical trainees.
Professor Richard Irving is a Consultant in Otology, Neurotology and Skull Base Surgery and Honorary Professor in Bioengineering. He works at the Queen Elizabeth Hospital and the Children's Hospital in Birmingham UK. He is an active researcher with over 140 publications and is heavily involved in postgraduate education and training. Delivering the citation Professor Calvin Coffey, RCSI Council member expanded on Professor Irving's impressive scope of clinical practice including implantation otology, chronic ear disease, facial nerve and vertigo.
Dr John G. Meara is Plastic Surgeon-in-Chief at Boston Children's Hospital, Professor of Surgery at Harvard Medical School and Honorary Professorial Fellow of the University of Melbourne. He is the is the Founder and Director Emeritus of the Harvard Programme in Global Surgery and Social Change. The citation was read by Ms Margaret O'Donnell, RCSI Council Member, who applauded Dr Meara's work in global surgery projects including his roles as Co-Chair for the Lancet Commission on Global Surgery and commissioner on the Lancet Global Health Commission on High Quality Health Systems in the SDG Era.
RCSI President Professor Laura Viani commented: "It is my pleasure to be awarding Honorary Fellowships to five individuals who have demonstrated such commitment to their fields and have contributed significantly to the practice of surgery around the world. My sincere congratulations to you all."