Professional Competence Scheme
All doctors are legally obliged to maintain their professional competence by enrolling in professional competence schemes and following requirements set by the Irish Medical Council.
RCSI is responsible for operating the scheme for surgeons and doctors working in surgery and emergency medicine.
The 2021–2022 Professional Competence Scheme year is open for enrolment.
If you are registered on the Specialist, General or Supervised Divisions of the Medical Council Register in Ireland, you are required to enrol in a Professional Competence Scheme.
Maintaining Professional Competence
PDF | 1657.2 KB
If you are on the Irish Medical Council register and practising for more than 30 days a year in Ireland, you are required to enrol in a PCS, engage in CPD activity, and record/retain documentation relating to CPD activities. Learn more by downloading our guide.
Download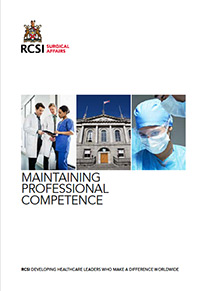 Based on consultation with clinicians in practice, we have developed an ePortfolio which aims to support you in meeting the PCS requirements.