RCSI unveils new Irish artworks to celebrate pioneering women in nursing and midwifery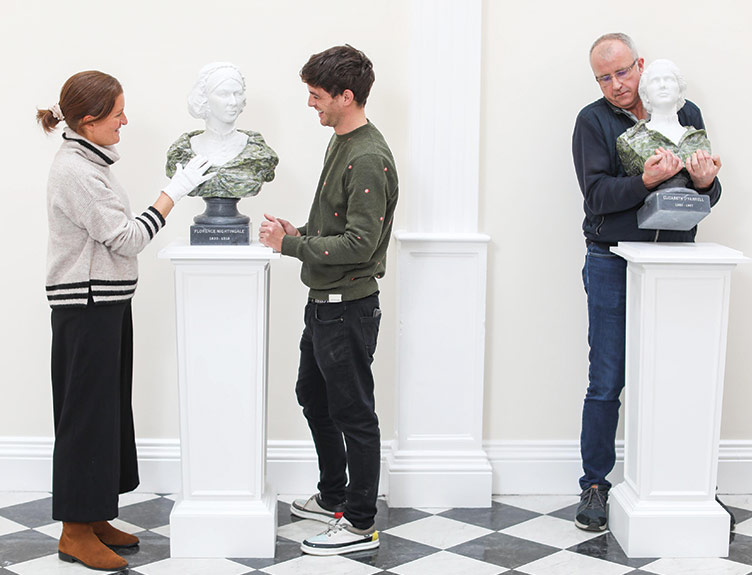 RCSI has today unveiled new sculptural portraits to celebrate two pioneering women in the field of nursing and midwifery: Florence Nightingale and Elizabeth O'Farrell.
Created by Northern Ireland sculptor John Rainey, the two artworks were commissioned by RCSI's Faculty of Nursing & Midwifery, in partnership with the School of Nursing & Midwifery, to mark the 40th Anniversary of the Faculty's Research and Education Conference.
The Nursing & Midwifery commission was delivered in partnership with Business to Arts, a charitable organisation that develop strategic creative partnerships between the corporate and cultural sectors.
Today's unveiling marks RCSI's third celebration of female leaders in healthcare through art, complementing the 2019 Women on Walls collection which commemorates historical female leaders in healthcare and the 2020 collection of contemporary photographic portraits of leading academic staff by photographer Amelia Stein.
Aíne Gibbons, Director of Development, Alumni Relations and Chair of the RCSI Art Committee, said: "For more than 200 years, RCSI has recognised the importance of representing leaders in healthcare through portrait and sculpture, from our surgical founders to university professors of the 21st century.
"We are delighted that RCSI's collection has been further enhanced with the representation of historical female leaders in nursing and midwifery, in recognition of their pioneering achievements and raising the visibility of female figures in healthcare to inspire others."
Dr Mary Boyd, Dean of the Faculty of Nursing & Midwifery, RCSI said: "In 1982, the Faculty established its Annual International Nursing & Midwifery Research and Education Conference, which celebrated its 40th anniversary in 2021. This significant milestone inspired the commission of these new artworks.
"The choice of three different stones is a visual echo of the triad of core values of nursing and midwifery in Ireland – 'Compassion, Care and Commitment'. I would like to congratulate John Rainey on these wonderful sculptures. We hope these portraits will inspire future generations of nurses and midwives."
Born in 1820, Florence Nightingale was an English social reformer, statistician and the founder of modern nursing. Her efforts to formalise nursing education led her to establish the first scientifically based nursing school at the Nightingale School of Nursing, London.
Born in Dublin in 1883, Elizabeth O'Farrell worked as a midwife at Holles Street Hospital. A committed trade unionist, she was also involved in nationalist and suffragist organisations including the Gaelic League and Cumann na mBan. She is remembered for her nursing duties and important role she played as a dispatcher in the Irish Citizens Army. She is best known for delivering the 1916 Easter Rising surrender order to army units stationed around Dublin.
The artist, John Rainey commented: "I am thankful to have had the opportunity to learn about and engage with the stories of these two dynamic women, and to have played a part in their becoming the first women to enter the RCSI sculpture portrait collection."
About the sculptural portraits
The busts of Florence Nightingale and Elizabeth O'Farrell are carved digitally, using CNC milling technology, in three types of marble: Carrara marble, Connemara marble and Kilkenny marble.
Connemara marble, featured prominently in the middle sections of the sculptures, was popular with Irish architects in the 19th and early 20th centuries. The material has ancient mystic associations with well-being and health, which speak to a heritage of healing, and to the way people, over time, have sought to improve health.
The two women are represented in a combination of uniform and outerwear, as a way of reflecting their significant contributions both inside and beyond their professions, notably Nightingale's role as a social reformer, and O'Farrell's involvement with Cumann na mBan and suffragist organisations.
About the artist
Born in Omagh, Northern Ireland in 1985, John Rainey graduated from the Royal College of Art, London in 2012. He has been awarded residencies at the British School at Rome (Rome, 2018) and Konstfack University of Arts, Crafts and Design (Stockholm, 2013) and has presented solo exhibitions at Berg Gallery, Stockholm; Naughton Gallery at Queens University, Belfast; Golden Thread Gallery, Belfast, and Marsden Woo Gallery, London. His work is held in public collections including the UK Government Art Collection and the Arts Council of Northern Ireland Collection.
Faculty and School of Nursing & Midwifery
Established in 1974, the RCSI Faculty of Nursing & Midwifery plays a pivotal role in leading and supporting the development of the nursing and midwifery professions nationally and internationally. This development is delivered through Faculty actions with an extensive range of partners across three strategic pillars; transformative learning experiences, impactful research in the areas of professional development and supporting the contribution of nurses and midwives to healthcare and societal well-being. The Faculty is the lead partner in the European Centre of Excellence for Research in Continuing Professional Development with 22 country members and operates a Centre for Nursing and Midwifery Advancement across the RCSI Hospital Group.
Educating future leaders in healthcare delivery and related research is at the core of the mission of the RCSI School of Nursing & Midwifery. The School's key goal is to empower nurses and midwives to be able to demonstrate the difference that they make to practice, and in doing so, to be able to respond accordingly to the leadership and professional challenges that they face every day. A wide range of nursing and midwifery education programmes such as BSc, Postgraduate Certificate and Diploma, MSc, and PhD are offered at the School. The School is also home to the nurse-led Skin Wounds and Trauma (SWaT) Research Centre, which is leading cutting-edge research in the field of wound healing and tissue repair, with a specific emphasis on pressure ulcer prevention and management.