Food
Getting three decent meals a day is particularly important when you're a student. Instant noodles and junk food can't exactly be described as brain food. Luckily, there are plenty of delicious food options both on campus and nearby that won't break the bank.
Foodie heritage
With a long agricultural tradition and spectacular wild foods, Irish people have grown up with world-class foods stocking our cupboards. People all over the world acknowledge the outstanding quality of Irish ingredients like dairy, vegetables and meats and Irish cuisine has always been about showcasing these seemingly simple ingredients with hearty dishes like stew, boxty and soda bread proving the ideal platforms for this.
Modern Dublin eating
From cosy cafés to trendy pop-up restaurants to quirky food trucks, Dublin's food scene is booming with new eateries opening around the city all the time.
Dubliners are becoming more discerning when it comes to their food choices – they want more variety and more diversity, so chefs around the city are competing to keep up. Of course that's good news for hungry students with many restaurants offering great value early bird menus. These restaurants are also well-versed in preparing food for people with specific dietary requirements, so you won't need to go far to find somewhere that serves vegan dinners, Halal meals or celiac-friendly treats.
Takeaway picks
When you just need a quick bite off campus, pop by one of these student favourites to sate your appetite:
KC Peaches, which has locations throughout the city, has tasty salad boxes, soups and sandwiches, plus a mouthwatering selection of baked goods.
Dunnes Stores supermarket is just around the corner from RCSI and has lots of traditional student fare including legendary chicken fillet rolls and tasty poached salmon salads.
Pablo Picante is a five-minute walk away and is a haven for fresh, spicy Mexican burritos full of rice, beans, cheese and meats.
Bargain bites
If you have more time and want to sit down and dine, some of our favourite city centre eateries include:
Umi Falafel on Dame Street is packed with Middle Eastern vegetarian fare at reasonable prices
The Fumbally is always a hive of activity, with lots of homemade lunches and an exceptional experimental dinner every Wednesday
Jo'Burger has every kind of burger topping you can imagine, from curry mayo to caramelised banana, taking comfort food to a whole new level.
If you prefer to cook at home, Dublin has a great selection of markets, which you can read more about here.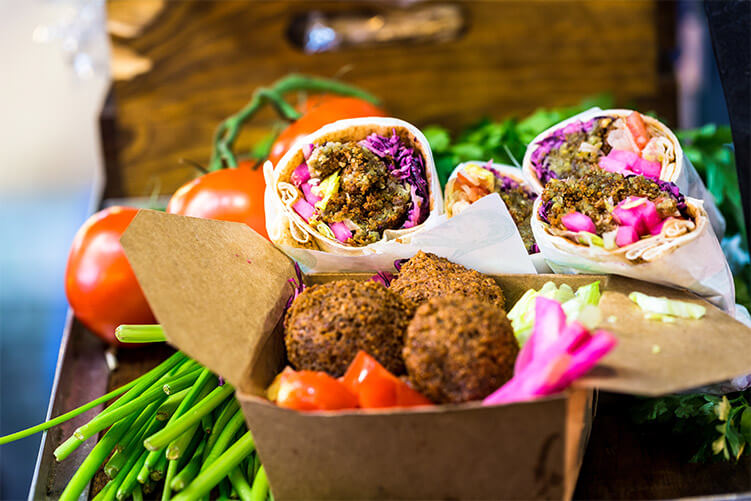 Cafe culture
Caffeine lovers will be glad to hear that there are two quality cafes on campus and a host of popular coffee shops in the vicinity, ensuring you're never too far from a place where you can refuel.
Clement & Pekoe on South William Street has become synonymous with Dublin's growing hipster coffee scene; but even if you don't fit into that mould, you'll love their carefully selected roasts.
With late opening hours and a great selection of drinks, Accents Coffee & Tea Lounge is the perfect place to spend a wet evening in the city, sipping on an indulgent hot chocolate.
Java Republic on Molesworth Street is the place to go if you're a tea lover. Stock up on boxes of rooibos and treat yourself to a takeaway while you're there.