Conference explores surgical training in east, central and southern Africa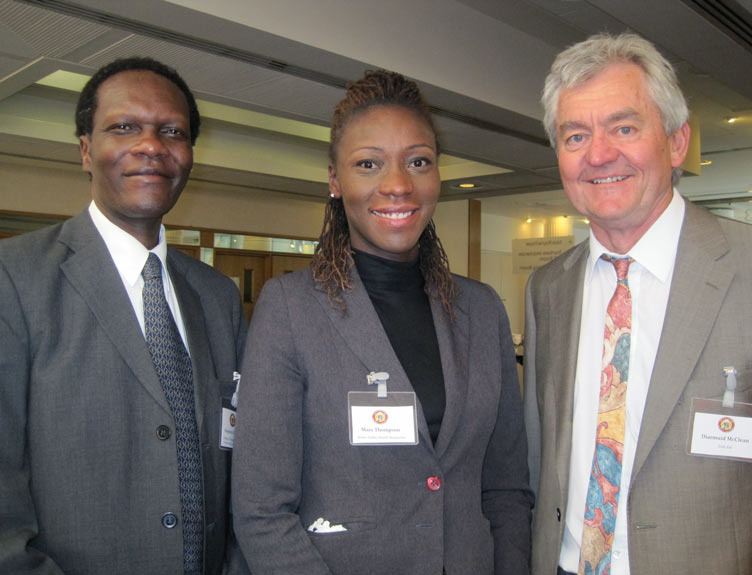 Delegates from across Africa, North America, Europe the UK and Ireland attended a one-day conference entitled 'Surgical Training in East, Central and Southern Africa - A Regional Approach' which took place Friday, 6 May 2011. More ...
The College of Surgeons of East, Central and Southern Africa (COSECSA) supported by Irish Aid and RCSI hosted the event which took place in the Royal Society of Medicine in London.
The conference, which was the first of its kind, was organised by RCSI and was attended by a diverse range of organisations with an interest in surgical training in the region including representatives from all surgical specialities, colleges and associations of surgeons and anaesthetists, international development specialists, NGOs, international donors and medical professionals.
Following opening remarks from Dr Frederick Mutyaba, President, COSECSA, His Excellency Ernest Rwamucyco, High Commissioner for the Republic of Rwanda to the United Kingdom delivered a message from His Excellency Paul Kagame, President of the Republic of Rwanda and Patron of COSECSA. In his message President Kagame congratulated COSECSA on its work and noted that a regional approach to surgical training is both more sustainable and more attractive to donors. He also highlighted the problems of 'brain drain' and lack of access to surgery in rural areas.
The keynote address was delivered by The Lord Ribeiro, Kt, CBE, President, Royal College of Surgeons of England 2005-2008, who spoke about the importance of exchanges and collaborations, how COSECSA could promote itself with reference to the Millennium Development Goals and proposed areas where COSECSA could expand its role.
Mr Yusuf Kodwavwala, Executive Member of COSECSA, highlighted the need for increased funding for surgical training in the region which has only 1,000 surgeons for a population of a quarter of a billion people - less than 10% of the ratio recommended by the World Health Organisation.
Also addressing the conference was Dr Diarmuid McClean, from Irish Aid who spoke about surgery and health Millennium Development Goals from a donor's perspective. Dr McClean stressed that an investment in health is an investment in economic development and praised the regional approach to surgical training will lead to international standard setting in the individual COSECSA countries.
RCSI representatives who addressed the conference were Professor Ruairi Brugha, Principal Investigator of 'COST Africa' Clinical Officer Surgical Training Programme, who discussed the role of the non physician clinician in surgical care in Africa, followed by Professor Sean Tierney, Dean, Professional Development and Practice, RCSI and Mr Declan Magee, Council Member, RCSI who spoke about learnings from the RCSI/COSECSA Collaboration Programme to date.
A panel discussion involving representatives from the WHO Emergency and Essential Surgical Care programme as well as four surgical training interventions: Global Emergency Care Skills, Interburns, Zambia Trust Fund, and Urolink, also took place as part of event.