Minister for Health James Reilly launches National Office of Clinical Audit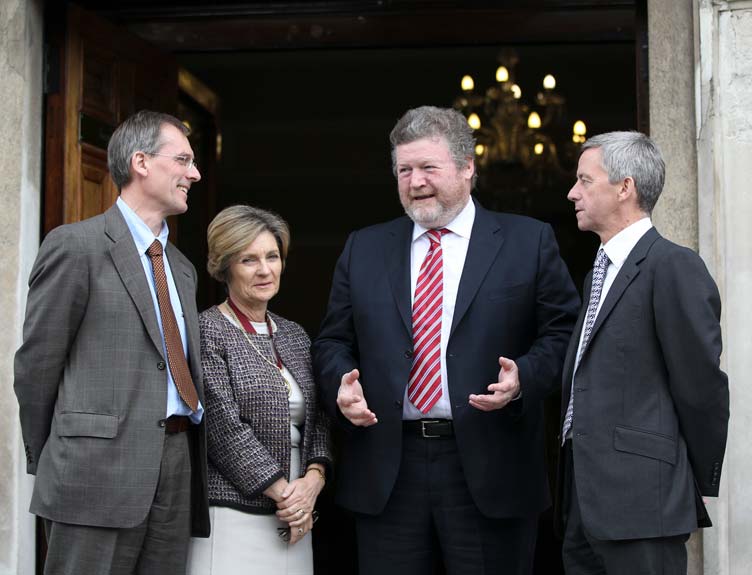 Minister for Health Dr James Reilly T.D. today launched the new National Office of Clinical Audit (NOCA) in RCSI. NOCA will design, develop and implement national clinical audit programmes in order to improve patient outcomes and promote patient safety in hospitals.
Speaking at the launch, Minister for Health, Dr James Reilly T.D. said "Clinical audits aim to assess the extent to which care is consistent with best practice. It also assesses the extent to which care achieves expected outcomes. The establishment of the National Office of Clinical Audit (NOCA) will provide a sustainable governance structure to advance national clinical audits and will bring Ireland in line with international best practice. Clinical audit is a quality improvement process that seeks to improve patient care and outcomes through systematic review of care against measurable criteria. The establishment of NOCA supports improvements to clinical practice and service delivery in order to benefit the patient. Put simply this is about making sure that patients are getting the best treatments performed properly."
The National Office of Clinical Audit has been established through the collaboration of the HSE's Quality and Patient Safety Directorate and Clinical and Strategy Programmes Directorates together with the Royal College of Surgeons in Ireland and the College of Anaesthetists. The Royal College of Surgeons in Ireland will be responsible for the administration and operation of NOCA on behalf of the HSE.
Professor Eilis McGovern, President of RCSI and Chair of the NOCA Governance Board said "Structured clinical audits will provide NOCA with the tools needed to report on the outcomes of the audits in order to ensure shared clinical learning experiences. Promoting a culture of lifelong learning and peer review will help to create an open culture of identifying and reporting incidents in order to provide the best care for patients."
Dr Philip Crowley, HSE National Director for Quality and Patient Safety, said "Clinical audit is an essential element of any healthcare system that is serious about measuring quality of care and improving patient safety. The establishment of a National Office of Clinical Audit reaffirms the on-going commitment to assessing openly how health services compare against high quality standards, so that any changes needed to improve the quality of care can be identified and acted upon. This is part of a continual learning process, which is very much in keeping with the commitment to patient safety first."
The first audit stream under development is the Irish Audit of Surgical Mortality. This confidential, independent, peer review audit will provide documented, critical analysis of the outcomes of surgical care. It will allow for the detection of system issues and emerging trends and will enable Irish clinicians to benchmark clinical outcomes against international standards.
Three additional audit streams have been identified for 2012.
An Irish National Orthopaedic Register - a national register to record and monitor joint replacement
A national Intensive Care Audit - to monitor patient care and outcomes in intensive care
Average Length of Stay - collation of data from the average length of stay element of the Elective surgery programme to inform efficient bed usage in hospitals
The Irish National Orthopaedic Register will provide information on the outcomes of joint replacements and identify risk factors. Implant performance and patient outcomes will be recorded in order to provide feedback to surgeons. The establishment of the National Intensive Care Audit will measure the quality of patient care and levels of activity in intensive care units in order to drive improvements in intensive care units.
The inaugural NOCA Governance Board will comprise members from the HSE, RCSI, the College of Anaesthetists of Ireland, the Irish Institute of Trauma and Orthopaedic Surgery, the Joint Faculty of Intensive Care Medicine of Ireland, the Independent Hospitals Association of Ireland, the Office of Nursing and Midwifery Directorate and public representation.
Further information is available at noca.ie.
Background to NOCA
(i) The Royal College of Surgeons in Ireland will be responsible for the administration and operation of NOCA on behalf of the HSE.
(ii) Clinical Audit is a proven and reliable method of proactively measuring the effectiveness and performance of healthcare against agreed standards. As part of the Clinical Audit, an assessment is made against high quality standards and, where necessary, improvements in the quality of care provided are identified. Clinical Audit provides assurance of quality to service users, practitioners and to the health system as a whole.
(iii) The HSE's Quality and Patient Safety Directorate is committed to a multi-agency approach, as part of the Patient Safety First initiative, to ensure high quality care is available to all. This is part of the Directorate's overall responsibility for the development of a national integrated quality and risk management strategy, and in ensuring that clinical governance frameworks are in place to enable healthcare services to deliver on the quality and patient safety agenda.