Professor Deborah McNamara receives the Olga Jonasson Distinguished Member Award
RCSI Council member Professor Deborah McNamara has received the Olga Jonasson Distinguished Member Award 2019. The award, which recognises world leaders in surgery, was presented at the Association of Women Surgeons (AWS) Foundation awards in San Francisco.
The Olga Jonasson Distinguished Member Award is named in memory of Olga Jonasson MD, the first female chair of a surgical academic department and a leader in the American College of Surgeons. The award is given to an AWS member who, through outstanding mentorship, enables and encourages women surgeons to realise their personal and professional goals.
Prof. Deborah McNamara, MD, FRCSI is a Consultant General and Colorectal Surgeon at Beaumont Hospital in Dublin, a Clinical Professor of Surgery at RCSI, Co-Lead on the National Clinical Programme in Surgery and the chair of RCSI's Working Group on Gender Diversity.
Speaking at the awards ceremony, AWS President Sarah Parangi MD, FACS, commented: "Prof. McNamara helped establish the first Irish chapter of AWS within RCSI, inspiring and mentoring medical students as they begin their surgical careers. Her research on gender disparity in surgery has led to lasting changes to training and improved diversity and equality."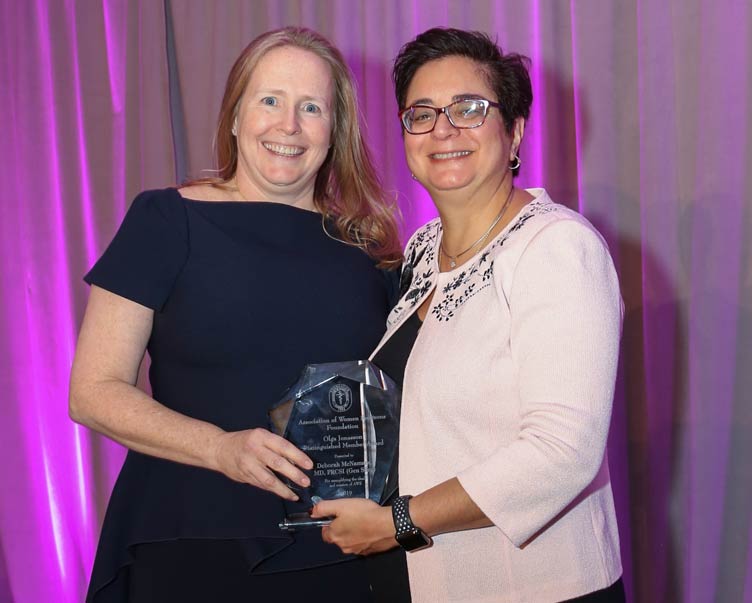 Congratulating Prof. McNamara, Prof. Cathal Kelly, RCSI CEO said: "RCSI is committed to the success of our surgeons and to ensuring that surgery is a profession in which male and female doctors can thrive. Professor McNamara's recognition by the AWS is a testament to the extraordinary and unwavering support she offers to encourage and enable our students to realise their goals and reach their full potential."
Each year, the AWS Foundation presents awards to outstanding individuals who are supportive of the AWS mission to inspire, encourage, and enable women surgeons to meet their professional and personal goals.
RCSI medical students will run the first ever European conference for the Association of Women Surgeons on Saturday, 7 March 2020.