Second 'PROGRESS Women in Surgery Fellowship' awarded to Ms Helen Mohan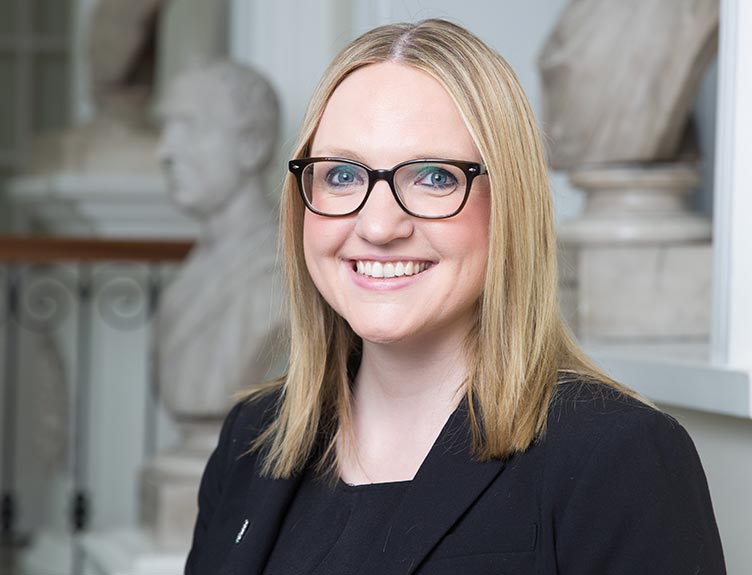 Ms Helen Mohan FRCSI, has today been announced as the recipient of the second PROGRESS Women in Surgery Fellowship.
Aimed at addressing the barriers to women medical graduates advancing in the surgical profession in Ireland, this prestigious Royal College of Surgeons in Ireland (RCSI) bursary, funded by Johnson & Johnson Medical Devices Companies*, promotes female participation in surgical training at fellowship level.
RCSI published the 'PROGRESS: Promoting Gender Equality in Surgery' report in 2017, identifying the complex barriers to female progression in surgery. The report specifically called for the provision of a fellowship for female surgeons to inspire exceptional trainees by providing the opportunity to avail of career-defining international fellowship training.
Ms Mohan will now travel with her family to undertake a Fellowship in colorectal surgery at Peter MacCallum Cancer centre in Melbourne, Australia. This high-intensity Fellowship will focus on advanced colorectal cancer, including training in robotic surgery, peritonectomy and pelvic exenteration.
Ms.Mohan graduated from UCD with a first class honours degree in 2007. She undertook basic and higher surgical training in General and Colorectal Surgery and was awarded her FRCSI in 2019 and CCST in 2020. She has a strong research background with over 50 publications and was awarded a PhD in Pathophysiology of Inflammation and Cancer.
She is the past-president of the Association of Surgeons in Training. Passionate about promoting diversity in surgical training, she is a mentor on the ASiT mentoring programme and has published on the experience of pregnant trainees in the Postgraduate Medical Journal and the BJS, and has introduced initiatives to support parents at the ASiT conference including a conference creche and a maternity leave policy for ASiT council.
Accepting the Fellowship, Ms Mohan said: "This Fellowship is hugely significant to me. It will allow me to advance my career in colorectal surgery and to focus on providing high quality patient care, promoting research and surgical education. I am grateful for the support of the RCSI Progress Fellowship and I am committed to advancing the goal of the Fellowship in supporting women to become consultant surgeons by mentoring trainees and nurturing excellence."
RCSI President Professor P. Ronan O'Connell said: "I am delighted to award this Fellowship to Helen Mohan. Through this Fellowship, Ms Mohan will play an important role in promoting a better understanding of the challenges faced by women in surgery and encourage women medical graduates to strive for a career in surgery."
Patrizio Fatale, Country Manager of Johnson & Johnson Medical Devices in Ireland, said: "We are delighted to once again provide funding support for the PROGRESS Women in Surgery Fellowship as part of our long-standing partnership with the RCSI. We are passionate about providing medical education to surgeons at all stages of their career to support continuous development and the delivery of safe patient care."
RCSI is committed to promoting gender equality among staff and students for the advancement of the College's mission to educate, nurture and discover for the benefit of human health. RCSI has been awarded Athena SWAN Bronze accreditation for positive gender practice in higher education. In March 2019, RCSI unveiled a ground-breaking series of portraits to recognise the pioneering achievements of a group of eight extraordinary women and to enhance the visibility of historical female leaders in healthcare to inspire future generations.
* Johnson & Johnson Medical Devices Companies is funding the fellowship through an educational grant and is not involved in the selection of candidates for the fellowship.