PROGRESS Women in Surgery Fellowship awarded to Ms Christina Fleming
Ms Christina Fleming PhD FRCSI has today been announced as the recipient of the third PROGRESS Women in Surgery Fellowship.
Aimed at addressing the barriers to women medical graduates advancing in the surgical profession in Ireland, the prestigious Royal College of Surgeons in Ireland (RCSI) bursary, funded by Olympus, promotes female participation in surgical training at Fellowship level.
Launched in 2019, the Fellowship enhances the expertise and skill base of Irish female surgeons by supporting their opportunities to gain international exposure in their chosen fields, acquire additional surgical skills, have access to new technologies and contribute to the advancement of surgical science and practice on the island of Ireland.
Ms Fleming will now undertake a Fellowship in Robotic and Colorectal Surgery at Centre Hospitalier Universitaire, Bordeaux, France. The Fellowship will focus on a broad range of advanced colorectal surgery practice including robotic and transanal surgery.
Ms Fleming graduated from University College Cork (UCC) with a first-class honours degree in 2011. She undertook basic and higher surgical training in general and colorectal surgery in Ireland and was awarded FRCSI in 2020 and CCST in 2021. During this time, she completed a basic science PhD and qualifications in human factors and clinical leadership. She has published more than 70 papers and has been awarded over 20 prizes, bursaries and research grants for her work. Following the Fellowship, she will return to a Consultant General and Colorectal Surgery post at the University of Limerick Hospital Group.
Ms Fleming is a past-vice president of the Association of Surgeons in Training (ASiT) where she developed a key understanding of how zero tolerance for diversity bias and gender bias can be realised within a surgical specialty organisation. She is current Chair of the Irish Surgical Research Collaborative and is a Programme Committee and Robotic Surgery Working group member with the European Society of Coloproctology. She has been a mentor on the ASiT and RCSI Association of Women Surgeons (AWS) Student Chapter mentoring programmes and has recently co-authored work on the global experience of diversity bias in colorectal surgery, with a particular focus on gender, sexual orientation and race and religion.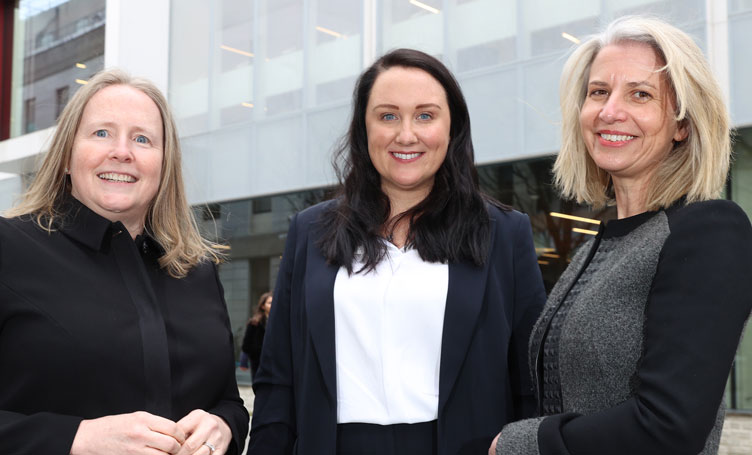 Accepting the Fellowship, Ms Fleming said: "It is a huge honour to receive the 2022 PROGRESS Fellowship. I am hugely grateful to RCSI for this opportunity and to Olympus for supporting this initiative. The Fellowship will significantly support me to pursue my Fellowship training. I aim to develop key skills required to deliver a high-quality colorectal surgery practice for Irish patients and integrate innovative surgical techniques including robotic and transanal surgery. The PROGRESS Fellowship will also offer me an important opportunity to continue the conversation of increasing and supporting female participation and success in surgery."
Professor P. Ronan O'Connell, RCSI President, said: "I am delighted to award this Fellowship to Ms Christina Fleming. Now in its third year, the Fellowship signifies RCSI's commitment to addressing the systematic barriers that are preventing women from progressing further in surgery, as outlined in PROGRESS reports. I wish Christina every success as she embarks on her Fellowship training at Centre Hospitalier Universitaire, Bordeaux."
Alison Harvey, Country Manager of Olympus, said: "Olympus is delighted to be associated with this distinguished Fellowship for a talented female surgical trainee. The opportunity will allow the recipient to gain vast clinical experience in a broad range of advanced colorectal surgery practice. We are honoured to partner with RCSI on this project and we believe it will contribute to both enhancing the skill base of surgeons, and improving patient outcomes, here in Ireland."
RCSI published the 'PROGRESS: Promoting Gender Equality in Surgery' report in 2017, identifying the complex barriers to female progression in surgery. The report specifically called for the provision of a Fellowship for female surgeons to inspire exceptional trainees by providing the opportunity to avail of career-defining international Fellowship training.
Ms Ailín Rogers FRCSI received the inaugural Fellowship in robotic colorectal surgery and multivisceral resection for advanced pelvic malignancy at Royal Marsden Hospital in London. In 2021, Ms Helen Mohan FRCSI began her Fellowship in colorectal surgery at Peter MacCallum Cancer centre in Melbourne, Australia. These two Fellowships were funded by Johnson & Johnson Medical Devices.