Professor Oscar Traynor inducted into American College of Surgeons Academy of Master Surgeon Educators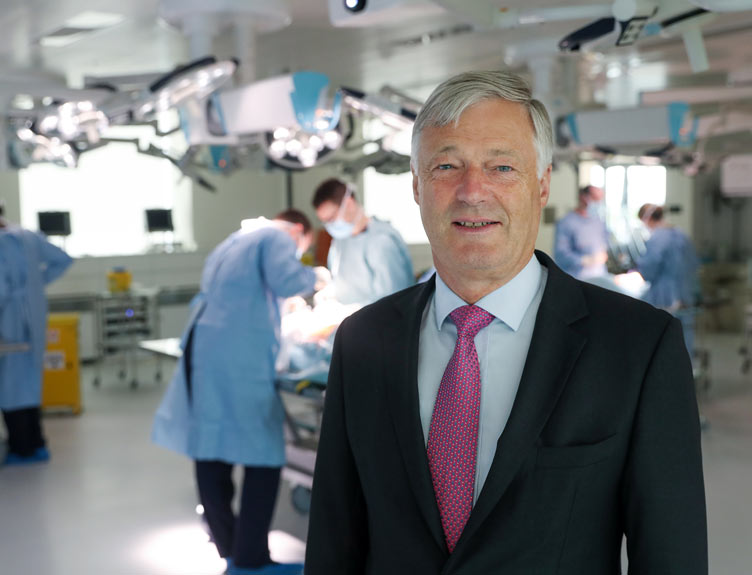 Professor Oscar Traynor, Professor of Postgraduate Surgical Education at RCSI, has been inducted into the American College of Surgeons (ACS) Academy of Master Surgeon Educators, an honorary distinction that recognises surgeon educators who have devoted their careers to surgical education and are considered premiere leaders in their respective fields.
The ACS Academy of Master Surgeon Educators works to advance the science and practice of education across all surgical specialties. The Academy has more than 50 international members, representing 24 countries outside of the US.
Members actively engage in advancing the Academy's programmes and goals, which included advancing the science and practice of innovative lifelong surgical education, training and scholarship, fostering the exchange of creative ideas and collaboration and positively impact quality and patient safety through lifelong surgical education and training.
Spanning more than 20 years, Professor Traynor's career in RCSI and Irish surgical training has been long and distinguished. During his tenure as Dean of Postgraduate Surgical Training and Education, Professor Traynor oversaw many changes in the delivery of surgical training in Ireland, including structured operative skills training, surgical boot camp for new core trainees, the establishment of a centralised application and selection process using innovative aptitude and objective measurement techniques, the implementation of the intercollegiate surgical curriculum across all specialties and the creation of online e-learning programmes for surgical trainees.
Professor Traynor founded the Irish Liver Transplant Programme with the Department of Health in 1990 and served as Director of the programme for more than 25 years until he retired from clinical practice. Under his leadership, the centre performed more than 1,000 liver transplant procedures expanding from 14 transplants per year in 1993 to more than 65 transplants per year, with outcomes that match the best results obtained in the United Kingdom and Europe.
He guided the centre to become the nationally designated centre for pancreatic cancer surgery, and the principle centre for major hepatobiliary resectional surgery.
Professor Laura Viani, President of RCSI, said: "I wish to extend my sincerest congratulations to Professor Traynor on the occasion of his induction into the American College of Surgeons Academy of Master Surgeon Educators. Professor Traynor is a leader in surgery, in research and in surgical education. As a result of his innovations in surgical training, Ireland is now world-renowned in training surgeons of the highest quality. As a member of the Academy, Professor Traynor will influence surgical education globally and we wish him every success with this important work."
Ajit K. Sachdeva, MD, FACS, FRCSC, FSACME, MAMSE, Director of the ACS Division of Education and co-chair of the Steering Committee of the Academy, said: "This Academy of preeminent surgeon educators has been making landmark contributions to surgical education and is introducing many transformational changes in surgical education that will endure into the future.
"We look forward to leveraging the expertise of the members as we explore innovations that will continue to advance the field of surgical education and positively impact the careers of surgical educators."