Professor Sean Tierney awarded Honorary Fellowship of College of Surgeons of East, Central and Southern Africa
General news
Global surgery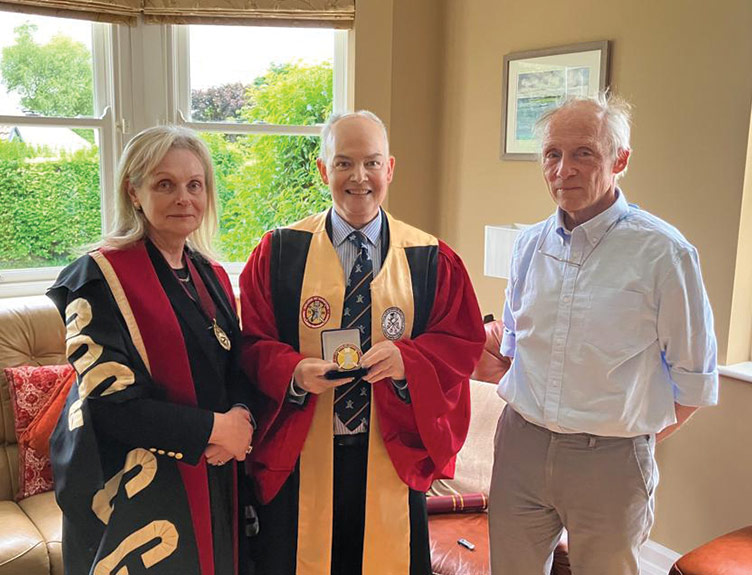 Professor Sean Tierney, Dean of Professional Development and Practice, RCSI, has been awarded Honorary Fellowship of the College of Surgeons of East, Central and Southern Africa (COSECSA).
The Honorary Fellowship recognises Professor Tierney's long standing commitment to the collaboration between RCSI and COSECSA. Since 2007, and with the support of Irish Aid, this collaboration has improved the standard of surgical care in East, Central and Southern Africa by advancing surgical education, training and examinations.
Pro. Tierney is the only member of the RCSI/COSECSA steering committee to have served continuously since the committee's inception. He has played a vital role in guiding the evolution of the programme which has helped COSECSA grow to be the largest single contributor to the surgical workforce in the East, Central and Southern Africa region, with almost 1,000 trainees enrolled across 14 member countries.
He has examined in more than a dozen COSECSA examinations, in ten different countries and played an instrumental role in building the COSECSA electric logbook (now the largest existing dataset of African surgical data), COSECSA's e-learning platform School for Surgeons, and several e-learning courses.
Professor Laura Viani, RCSI President, said: "It is impossible to quantify the impact Prof. Sean Tierney has had on the health and welfare of the population of the East, Central and Southern African region. The growth of the collaboration is testament to his commitment and dedication.
"Prof. Tierney was one of the main drivers behind the establishment of the RCSI Institute of Global Surgery which is building on the COSECSA collaboration to improve access to high-quality, essential surgical care for underserved populations. On behalf of RCSI, I offer my sincere congratulations to Prof Tierney on the occasion of his Honorary Fellowship of COSECSA," added Professor Viani.
Professor Eric Borgstein, Registrar, COSECSA, said: "As a key figure in the longstanding collaboration between COSECSA and RCSI, Prof. Sean Tierney has been hugely influential in the growth and development of surgery in East and Central Africa. COSECSA is where it is today, over a thousand surgeons graduated, thanks to this collaboration and thanks to Prof. Tierney. For this he has been given our highest award; the Honorary Fellowship."
Prof. Tierney graduated from University College Dublin (UCD) in 1987 and trained in Dublin, Limerick, Baltimore (USA) and London. He has over 100 peer reviewed papers, book chapters and reviews. As Dean of Professional Development and Practice at RCSI, he has supported surgeons in practice, and led the implementation of the Medical Council's professional competence scheme.