Teaching and education
Academics in the School of Pharmacy and Biomolecular Sciences are world-leading subject experts. We teach across a range of RCSI's flagship undergraduate and postgraduate programmes, equipping our graduates to become the innovators and leaders of the future.
The School of Pharmacy and Biomolecular Science offers both undergraduate and postgraduate programmes, including a fully-integrated, five-year degree programme leading to the award of MPharm, along with an innovative future focused four-year degree programme leading to the award of BSc in Advanced Therapeutic Technologies (commencing September 2022). Our Masters in Technologies and Analytics in Precision medicine launched in September 2021 for students interested in building a career in the new and exciting discipline of precision medicine. The latter two programmes are supported by a €7.8M Higher Education Authority Human Capital Initiative Grant to develop programmes addressing the skills needs of industry.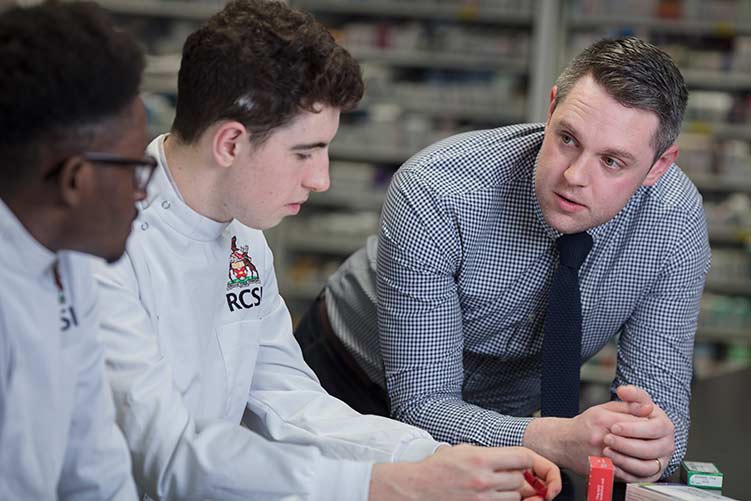 MPharm
The MPharm programme is dedicated to producing pharmacy graduates who possess the knowledge, skills, attitudes and behaviours to meet the Core Competency Framework for pharmacists of the Pharmaceutical Society of Ireland (PSI) in order to be prepared for patient-centred pharmacy practice across all pharmacy settings. Upon completion of the MPharm, graduates are fully qualified to apply to register as pharmacists in Ireland and throughout the EU. The MPharm also acts as a platform for professional pharmacy registration in other geographies and is recognised by the Pharmacy Board of Malaysia (PBM). Some countries recognise the BSc in Pharmacy, completed at the end of Year 4, as the qualification for practice.
Experiential learning is integrated throughout the programme. We uniquely provide a longitudinal community pharmacy placement in Year 2, in addition to the four-month placement in Year 4 and eight-month placement in Year 5. Our clinical partners, Rotunda Hospital, Beacon Hospital, Mater Misericordiae University Hospital, Our Lady's Children's Hospital Crumlin, Peamount Healthcare and St John of God Hospital, enable students to experience clinical settings.
Additionally, the School has established relationships with overseas institutions including the Bill Gatton College of Pharmacy at East Tennessee State University, USA and the College of Pharmaceutical Sciences at Soochow University, China, and the University of Lorraine, Nancy, France, which has allowed opportunities for international student placements.
The PSI commends the School for its student centric approach, state-of-the-art facilities, research options and evidence-informed approach to curriculum development. Redesigned for September 2022, in collaboration with students and other stakeholders, the MPharm programme prepares pharmacy graduates to be healthcare leaders of the future.
BSc in Advanced Therapeutic Technologies
The Bachelor of Science in Advanced Therapeutic Technologies, launching in September 2022, is an innovative, future-focused programme that equips graduates with the technical and transversal competencies to become leaders in healthcare innovation and technology. The programme is designed to address both the current and future skills needs of the (Bio)pharmaceutical and related industries, drawing upon cutting-edge developments across scientific disciplines. Employability is further enhanced by completion of a longitudinal industry placement of eight months in Year 3, which can be undertaken either within or outside Ireland. The programme has been developed to ensure that graduates can apply the knowledge and skills they will have gained in the real world to design, create and implement innovative solutions to complex healthcare problems, as we embark on a new era of healthcare. The curriculum has been developed in collaboration with national and multinational biopharma companies, including Congenica Ltd, Novartis, Aerogen, S3 Connected Health, Inflection Biosciences, Phion Therapeutics and Almac, and is delivered in a student-centric manner using the latest developments in education delivery.
MSc in Technologies and Analytics in Precision Medicine
The Masters in Technologies and Analytics in Precision Medicine is a unique and innovative programme that provides the knowledge and skills to personalise the diagnosis and treatment of patients within the new and exciting discipline of precision medicine. It has been developed in conjunction with national and multinational industry partners to deliver a world class Masters programme. The programme has a dual focus: developing technological capabilities and transversal skills including teamwork, communication, innovation and leadership. This combination of skillsets aims to drive creativity and flexibility in the modern workforce. Our programme is delivered by expert RCSI faculty, who are leaders in the fields of genetics, computational biology, data science, and bioinformatics, in addition to experts from the Biopharma companies listed above. The programme is offered as a one year full-time or two year part-time course offering, with exit routes of Postgraduate Diploma or Certificate also offered.
BSc in International Clinical Pharmacy
In 2018, the School introduced our first transnational degree programme delivered in conjunction with the College of Pharmaceutical Sciences, Soochow University, Suzhou, China. Students undertaking the BSc (Pharm) through English at Soochow University have the option to transfer to RCSI for the final two years of their studies leading to the award of dual degrees – a BSc(Hon) International Clinical Pharmacy from RCSI and a BSc(Pharm) from Soochow University.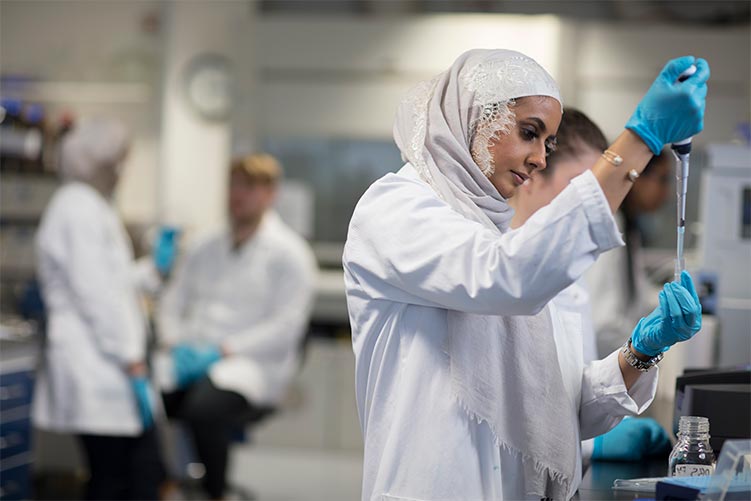 At Undergraduate level, school staff are involved in teaching and examining in the MPharm programme, the Undergraduate Medicine and Graduate Entry Medicine programmes, the Physician Associate programme, as well as contributing to teaching in the Physiotherapy programmes. Our leading researchers integrate up-to-date, evidence-based knowledge into their teaching, and demonstrate a strong commitment to research at Undergraduate level, providing medical and pharmacy students with innovative research projects undertaken as part of their degree programmes.
The School is also strongly committed to Postgraduate education; we contribute to taught programmes in the School of Nursing & Midwifery and the School of Postgraduate Studies along with significant supervision, mentoring, teaching and examining across postgraduate research programmes, including RCSI's respected Masters and Doctoral (MD and PhD) programmes.
Furthermore, we actively contribute research projects for Undergraduate students through the Research Summer School and the RCSI International StAR Summer Internship programme. Through the integration of research and education, we will encourage future healthcare professionals to be lifelong learners with the capacity to evolve and adapt to changes within their respective fields.