123 St Stephen's Green
With an unbeatable location, world-class facilities and a rich history, 123 St Stephen's Green is an incredible place to study.
Check out student spaces in RCSI Dublin
Beyond the facade
The RCSI main campus building has impressive views, life-sized marble statues and paintings by famous artists, including William Orpen. A truly impressive heritage landmark of Dublin.
However, it doesn't distract from its true purpose – to educate students to the highest levels for the benefit of human health.
Beyond, you'll find that this building has been designed to provide the best facilities for students studying healthcare disciplines.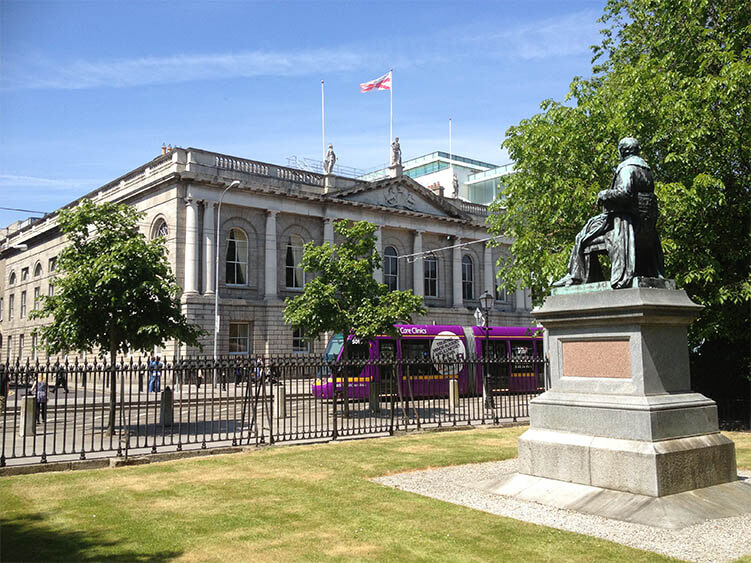 Constant improvement
123 St Stephen's Green was RCSI's first permanent address and it has been here since 1810. Throughout the years, adjustments, improvements and renovations have been made to make this a world-class place to learn.
The most obvious is the addition of a new building in the 1970s, bringing state-of-the-art labs, lecture theatres, offices and facilities to the campus. This gave RCSI the space to excel and grow for decades to come.
For over 200 years, 123 St Stephen's Green has been welcoming students of different faiths, cultures and backgrounds. This is reflected in the Muslim prayer rooms, Christian serenity room and a non-denominational meditation room that you can find throughout the complex.
Lessons of a lifetime
One of the most significant learning spaces on campus is in the original building. The Anatomy Room has been in the same location since it first opened in 1812. Students enter this bright, clean room to have one of the most important lessons of their professional lives.
Under the guidance of recently qualified doctors, professional dissectors and retired surgeons, students work together to dissect a human body for the first time.
Glance up in the Anatomy Room and you will see a unique collection of art suspended above you. Professor of Anatomy Clive Lee says this is to remind us that, "while medicine makes life possible, art makes it worthwhile".
Explore 123 St Stephen's Green with our Head Porter, Frank
Striving for progress
Throughout its history, RCSI has gone the extra mile to facilitate innovation at 123 St Stephen's Green. This has led to breakthroughs by RCSI staff and Alumni. These include Ireland's first operation under anaesthesia in 1847. A comprehensive list of RCSI firsts can be found in our Heritage Collections.
Who knows what milestones will be passed next by alumni who studied at 123 St Stephen's Green.