26 York Street
A new addition to the RCSI city centre campus – and voted Ireland's favourite building at the RIAI Irish Architecture Awards 2018 – 26 York Street is one of the most advanced clinical healthcare simulation centres in Europe.
Designed to offer you exactly what you need to pursue professional education, research and innovation, this building has multiple learning, study and recreational environments spread over 10 floors.
Take a virtual tour of our simulation facilities
Where old meets new
RCSI has a well-earned international reputation for delivering exceptional education. Since its foundation in 1784, it has been enhancing human health by delivering the best education possible.
26 York Street represents a huge leap forward in that goal. It houses everything you, as an RCSI student, needs to equip yourself for your professional lives.
Overlooking the original building, where RCSI has been since 1810, 26 York Street is what RCSI is all about: transforming healthcare education by developing the next generation of healthcare leaders who will transform lives.
Invaluable experience
The centrepiece of the building is its 12,000sq.ft multi-disciplinary National Surgical & Clinical Skills Centre, the first of its kind outside the United States.
This centre is designed to mirror a real hospital, with surgical and training suites including clinical skills labs, a mock operating theatre and clinical training wards. By working in this environment, you can get a sense of what life is like to work as a medical doctor, pharmacist or physiotherapist.
Thanks to these new facilities, specialist training previously unavailable in Ireland can now be completed right here at RCSI.
26 York Street featured on Six One News
State-of-the-art learning
Become the best healthcare professional you can be with learning facilities you can rely on at 26 York Street.
With a specialist health science library spanning three floors and containing over 500 study spaces, you don't need to worry about finding a space that suits you.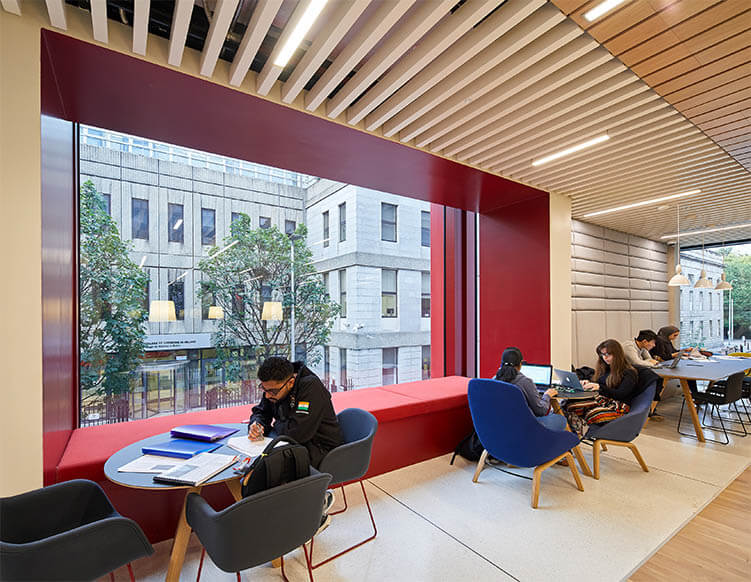 Transforming your day-to-day
As a student, sometimes you need all the help you can get to achieve a work/life balance. RCSI's campus addresses these concerns with a wealth of key facilities to make your life that little bit easier.
The sports centre and gym are just downstairs in the basement of the building, so you can comfortably fit in a workout between study sessions. Then for a quick bite to eat or a coffee, head over to The Dispensary on the ground floor.
RCSI is bringing a strong history of diversity in faith and culture to its newest building. Inside 26 York Street, you will find dedicated prayer and reflection spaces for Muslims, Christians and students of all other faiths.