Library
With locations in 26 York Street, Beaumont Hospital and the Mercer Building, the RCSI Library provides spaces, services and supports to all library users.
The main RCSI Library, located in 26 York Street, is the jewel in the crown of our library service. Filled with light, thanks to omnipresent windows, this modern library spans three floors and offers students a unique space to research, write, collaborate and more.
Technology
Unlike many other institutions, the majority of the RCSI library collection is online. That makes it quick, easy and convenient to find what you need.
Power and data points at every desk ensure connectivity when you need it.
If you forget your laptop or need another computer, there are PCs and iMacs throughout the library. Printing, copying and scanning are all also readily available when you need them.
Need specific software for an assignment? The Computer Room is fully-equipped with what you need and the library team are on-hand if you have any questions.
Group study
Recognising the benefit of learning from your peers, the RCSI Library has increased its spaces for group study by 50%. From audio-visual equipment to whiteboards, you will find all the essentials to work together in group study rooms and collaborative zones.
The amphitheatre is perfect for practising presentations in advance. One of the library's unique spaces, the amphitheatre has a podium and tiered seating to recreate the experience of being in a full-sized lecture theatre. Run through your presentation in front of your classmates, or use the technology for another level of perfection. Record and playback your presentation to perfect your delivery.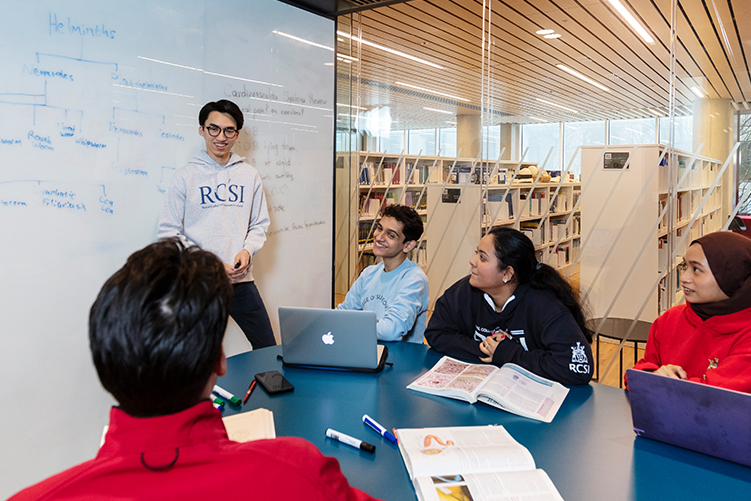 Solo study
When you want some peace and quiet, the RCSI Library makes it easier to concentrate with silent study zones and soundproofing in core study areas.
Need some extra information? The reading room gives access to over 10,000 different printed books and reference materials in a comfortable atmosphere.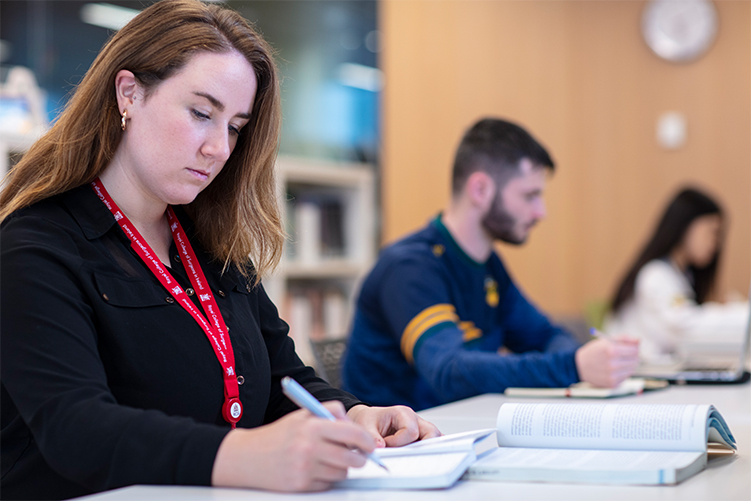 Extra-curricular
The library's expo stage acts as a pop-up venue for social clubs, societies and departments who want to engage with a wide-range of students. You never know quite what you'll find going on here ...
Need help?
Learning how to find, evaluate and use information is an integral part of medical and healthcare education, the Library information point is open 64 hours a week, with the library's customer service team on hand to offer guidance and help you when you need it.