Life as a first-year medicine student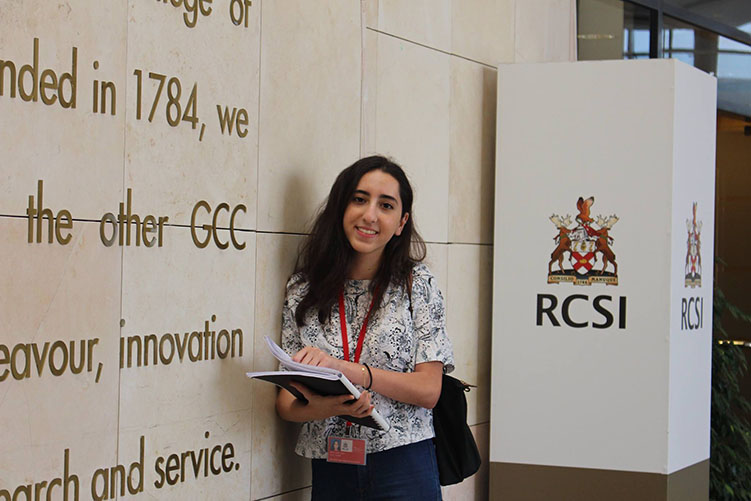 As an international student, it's difficult to step out of your comfort zone and move to a completely different environment, without having any knowledge of the place you are going to. Celebrating independence for the first time without your family, friends or even local culture can be daunting but RCSI Bahrain has been the perfect second home since I started here. I had many misconceptions about medical school and Bahrain as a country before I joined the University but I was glad to find that RCSI Bahrain successfully combines various cultures, languages and ethnicities into one complete society.
I was very impressed during my first week as I felt well guided and comfortable. First of all, I met a lot of new students during orientation and the welcome mixer, and I was able to interact with faculty and previous students, who showed me different ways of life in Bahrain, as well as academic approaches through the Student Services and the Centre for Student Success.
Settling in was not difficult at all. I spent my first year at the Halls of Residence, which is a five-minute walk from campus. I was able to meet many amazing students who are in the same boat as I am, in terms of them being new and facing the challenges of being newly independent.
I have made a lot of good friends by attending various university events such as Homecoming, International Night and the regular sports events at the HUB. I attend weekly Pop Pilates classes at the HUB, which is something that I look forward to for stress relief. This has helped me manage my time efficiently, which is important with the workload that medicine carries.
I'm thrilled to be here, and to create long-lasting friendships and memories for the remainder of my time at RCSI Bahrain. My fellow peers and I all share the same goals and plans for becoming future doctors and nurses, and apply ourselves with the values and principles of the institution and Bahrain as a whole. My advice to all new students is try to manage your time well. RCSI Bahrain is structured for us to succeed, and there's a lot of support for any issues you may have, academic or personal, so maximise and lean on these resources.