Fellowship (FFNMRCSI)
The Fellowship of the Faculty of Nursing and Midwifery in RCSI is awarded to candidates in recognition of outstanding work and exceptional leadership in their profession. One of the most prestigious professional qualifications to be awarded to nurses and midwives, becoming a Fellow allows you to join an extensive professional network across the world and avail of numerous research and networking event opportunities.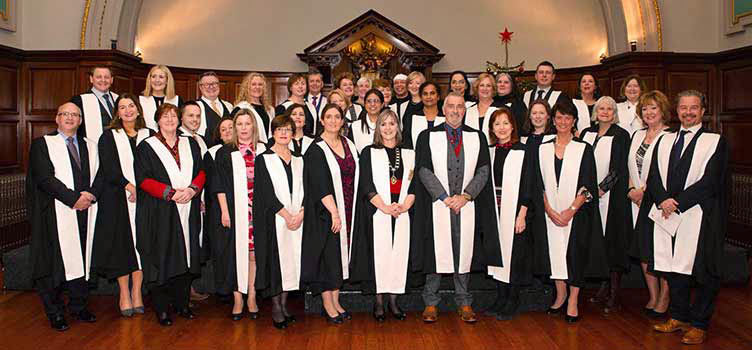 Fellowship of the Faculty of Nursing & Midwifery RCSI (FFNMRCSI) is awarded in three categories:
Honorary Fellowship
Fellow Ad Eundem
Fellow by Examination
Honorary Fellowships and Fellowship Ad Eundem are awarded to candidates in recognition of outstanding work and/or exceptional leadership in the profession of nursing/midwifery or a related science; those who have given significant service to the profession or to the Faculty of Nursing & Midwifery; and those who have positively influenced and impacted on health and society. Click here for complete list of the Faculty's Honorary Fellows. Download the brochure below to learn more.
Fellowship of the Faculty of Nursing and Midwifery Award 2021
PDF | 1262.7 KB
The Fellowship is open to any nurse or midwife, from any jurisdiction and from any scope of practice – clinical, research, education, leadership/management – and from any clinical specialty, from primary to tertiary care and across the lifespan.
An interactive information session with Ms Catherine Clune Mulvaney (Operations and Education Manager) and Ms Áine Halligan (Faculty Administrator) was held on Tuesday, 22 June 2021.
Watch the session
The ePortfolio is reviewed by two Internal Examiners.
Applicants are invited to a viva voce (oral examination) where the ePortfolio of evidence is explored through a critical discussion between two examiners and the applicant, over a 40-minute interview (in person or virtually).
An External Examiner reviews all aspects of the process ensuring that standards and quality assurance processes are maintained.
Repeat assessment
If you are unsuccessful in the viva voce, you will be notified of arrangements for re-application. A maximum of one re-application is permitted for the award of Fellowship.
Appeals
If you wish to appeal a result, please do so in writing to the Faculty of Nursing and Midwifery.
To be eligible for Fellowship, you must:
Have a Master's degree in nursing, midwifery or related/applied field, and
Be a registered nurse/midwife with a minimum of five years' experience
Applications are currently closed.
Dates for the next round of applications will be available here in due course. See below for general information about the application process.
Application process
To apply for Fellowship by Examination, you must submit the following:
Completed online application form, including:

A brief, up-to-date curriculum vitae
An ePortfolio demonstrating how you have contributed and developed your capacity, competence and capability across the following domains: Autonomy, Leadership, Expertise and Research

Examination fee: €250 – details on payment methods is available in the 'Fellowship fees' section.
In recognition of nurses and midwives exceptional commitment, dedication and contribution to the delivery of care to patients, clients and service users during the pandemic, the Faculty is delighted to show our support by reducing the cost of Fellowship to €250 (normally €500). The Faculty appreciates your work, your professionalism and your expertise in these challenging and unprecedented times. Your work has never been more vital or more valued.
Portfolio requirements
Academic and professional activities that support the following concepts may be included in the ePortfolio:
Autonomy in nursing/midwifery
Professional and clinical leadership
Expert practitioner in the area of nursing/midwifery
Researcher
You should provide an analysis of each of the four concepts in the context of your area of nursing/midwifery practice. You must describe in career experiences, which demonstrate achievements related to each of the four concepts.
You must include a signed declaration confirming that the information contained in the portfolio is an accurate account and reflection of your professional development.
If you require assistance with your application, please contact Catherine Clune Mulvaney at ccmulvaney@rcsi.com or 01 402 5172.
To engage in the governance of the Board of the Faculty of Nursing & Midwifery – such as attend the AGM – to become a member and in order to be eligible to vote to elect candidates to the Board, Fellows must be in 'good standing'.
To be of good standing, Fellows – other than Honorary Fellows and Fellows by Election – are required to pay an annual subscription fee. Fees must be paid annually in January. Fellows are deemed to be in good standing for the first year following their conferring.
The annual Fellowship fees are:
Employed Fellows: €50
Retired and Unemployed Fellows: €30
Payment method
Fees can be paid via secure electronic payment here.
Note: If you are applying for the Fellowship by Examination, please refer to the 'How to apply' section above. You will be able to make payment once you start the application process.