Education and training
RCSI SIM is designed to mirror a real hospital environment, with surgical and clinical skills laboratories, a flexible mock operating theatre/emergency room and both inpatient and outpatient rooms.
Providing an ideal learning environment for both supervised and independent practice, we also focus on the development of non-technical skills such as dynamic decision-making, teamwork, communication, and professionalism, which are increasingly important in terms of character development, building resilience and leadership.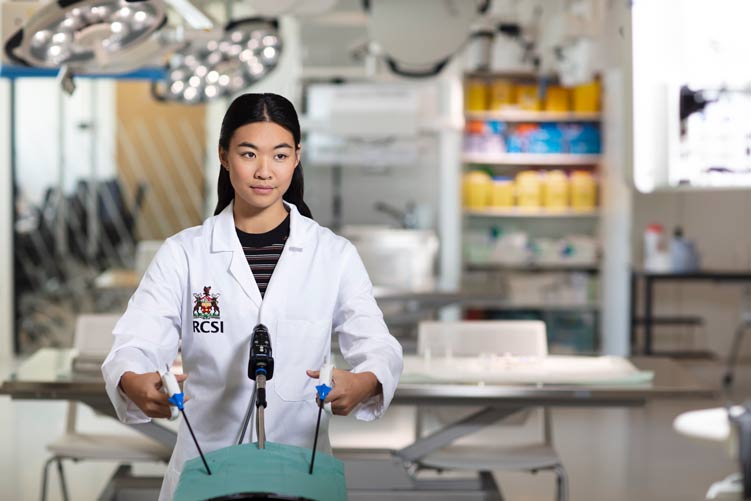 The state-of-the-art simulation facilities at RCSI enable students and postgraduate surgical trainees to undertake deliberate practice of clinical skills in a safe learning environment to achieve the highest standards before they work directly with patients.
"Having spent over 25 years as an airline pilot instructor and examiner, I have witnessed the power of simulation to change the culture of an industry. I have also been very fortunate to spend time in RCSI as a simulation scholar. The RCSI facility is cutting-edge. The RCSI SIM personnel are all dedicated professionals who understand the importance of simulation as a means to impart the most up-to-date, evidence-based practice within medicine and surgery.
"The team is led by a growth minded, solution focused director and manager who maintain high-quality, evidence-based teaching standards within a safe learning environment. As a medical student, simulation-based education has facilitated the deep learning of complex subjects such as obstetrics, paediatrics, trauma and medical emergencies within small group tutorial settings which embrace active learning principles."
Ruth Little, RCSI Undergraduate Medicine student
Healthcare practice requires a lifelong commitment to learning and we support the continuum of healthcare education and training with the patient always as the focal point. At RCSI, students and trainees have the opportunity to gain the skills and competencies necessary to prepare them for working in real-life clinical settings as a surgeon, medical doctor, pharmacist, physiotherapist, nurse, midwife or physician associate. Thanks to these facilities, specialist training previously unavailable in Ireland can now be completed at RCSI.
The COVID-19 crisis has also forced frontline healthcare providers to adapt quickly to new roles and responsibilities. In response to the pandemic, the Centre has worked collaboratively with teams across the RCSI community and within the national health service to develop supportive training content, enhance teaching and deliver research focused simulation scenarios. Our surgical training team has harnessed simulation to practice many of the challenging situations of operating in PPE equipment across every aspect of their practice, from microsurgical dissection to assessing quality of team communications, whilst wearing face shields.
A sample of our Surgical Skills Catalogue is available below. For the full catalogue, please contact us.
RCSI Surgical Skills Catalogue
PDF | 2463.5 KB