Facilities
RCSI SIM uses high-fidelity patient simulators in the fields of emergency medicine, surgery, paediatrics, obstetrics and gynaecology, neurology, anaesthesia, nursing and other clinical specialties. Clinical simulation involves creating a safe, controlled, and immersive environment for healthcare professionals to practice and refine their skills. The goal is to improve patient outcomes by providing healthcare professionals with opportunities to develop and transfer their clinical knowledge and abilities in a low-risk, high-feedback setting. Clinical simulation is grounded in a commitment to patient safety, lifelong learning, continuous improvement, collaboration, ethical and professional conduct.
Simulation scenarios include critical actions in both clinical management and communication skills. A dedicated simulation faculty guides students through scenarios designed to address complex issues, such as end-of-life concerns, informed consent and disclosure of medical errors. Each simulation space allows for multi-angle video capture to enable participants to reflect on their performance independently and in an interactive debriefing session with others following the simulation scenario.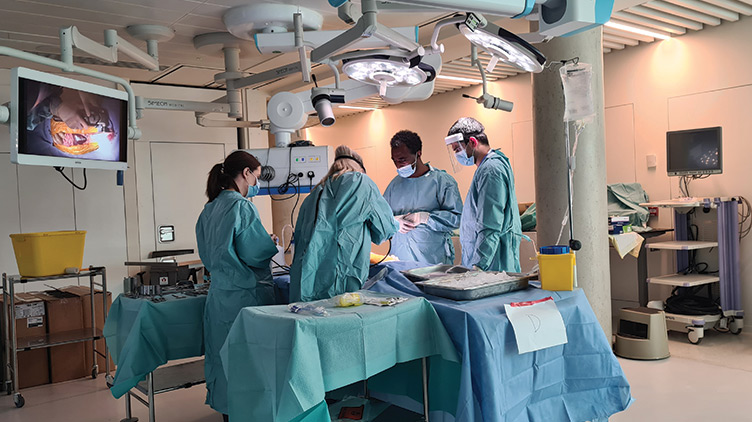 RCSI SIM incorporates the National Surgical and Clinical Skills Centre, where professionals and trainees can master their skills in our multi-purpose 'wet-lab', Surgical Simulator Suite and fully-functioning operating theatre. Each area is equipped with the latest laparoscopic equipment to assist in teaching even the most precise skills. The whole building is also equipped with a technology enhanced learning (TEL) system including over 70 cameras. This audio-visual and centre management system connects the simulation-based learning environments with top performance assessment tools.
Take a tour of our incredible facilities below.
Watch the tour of the RCSI SIM centre video
Overview of RCSI SIM facilities:
Fully-equipped and multi-purpose 'wet-lab' accommodating up to 30 trainees.
Surgical Simulator Suite accommodating 20 trainees with an array of state-of-the-art augmented reality simulators.
Mock operating room, resuscitation bay, maternity care unit and four inpatient wards for interprofessional team training, which use high-fidelity manikins to develop students' clinical skills, as well as to build their confidence in dealing with emergency situations, such as complications during labour.
10 outpatient consultation rooms where simulated patients assist in developing students' consultation skills.
12 flexible tutorial rooms, Mutchnik flexible space and Bouchier-Hayes Lecture Theatre.
Task training laboratory with a full range of teaching models, manikins and task trainers.
Patient lounge for simulated patient teams to congregate, socialise and rehearse scenarios.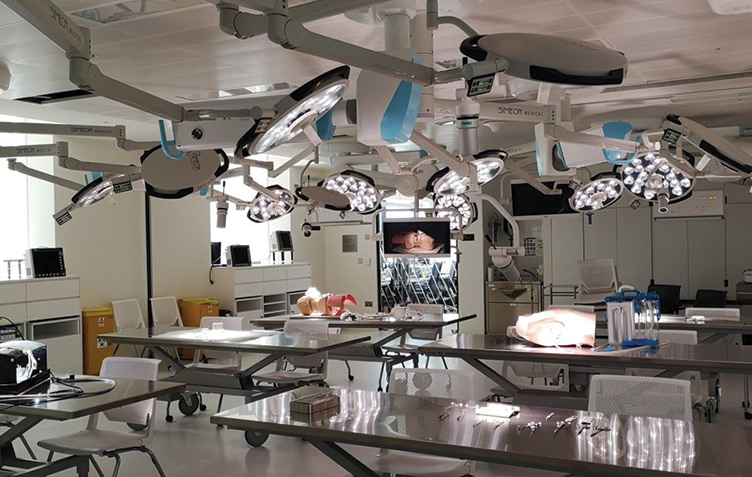 A detailed simulation equipment catalogue is also available below along with details of RCSI SIM floor plans and room details.
RCSI SIM floor plans
PDF | 7033.4 KB
RCSI Simulation Equipment Catalogue
PDF | 2991 KB
"With competency-based training becoming necessary as a result of EWTD legislation, the streamlining of training schemes and the advent of newer laparoscopic surgery and robotic platforms there are increasing challenges for trainees in gaining sufficient operative exposure. The RCSI simulation programme really helped me in overcoming some of these obstacles. It is an engaging and collaborative environment to learn in, with enthusiastic demonstrators and technicians. Over the course of the CST simulation programme I really noticed an improvement in my operative performance and ergonomics that I could later transfer to the operating room."
Éanna Ryan, surgical trainee