Surgical Data Science
Better trained surgeons lead to better patient outcomes. Under the leadership of Professor Debbi Stanistreet, the Surgical Data Science project seeks to identify the key factors that impact on the quality of surgical training in East and Southern Africa. The team is made up of members of RCSI's Institute of Global Surgery and researchers from Kamuzu University of Health Sciences, Malawi, led by team co-lead, Dr Wakisa Mulwafu.
The demand for surgical care is rapidly increasing; an estimated 28 million surgeries were cancelled worldwide during the first three months of the COVID-19 pandemic. Surgical interventions are needed for 80% of injured patients and more than half of patients with cancer. Furthermore, recent years have seen a sharp rise in non-communicable diseases worldwide. A scale-up in surgical training to meet this demand is already underway across East, Central and Southern Africa. The Surgical Data Science project aims to support this by providing an evidence-based, context-specific, transparent, and accessible quality assurance framework for surgical training across the region.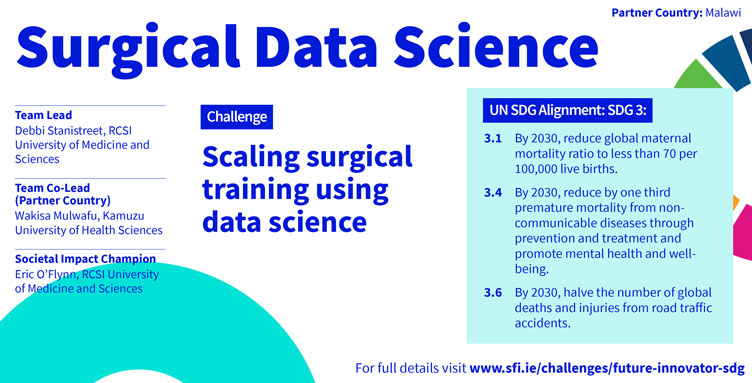 The project is one of seven research teams competing in the Science Foundation Ireland (SFI) SDG Challenge. Run in partnership between SFI and Irish Aid, this Challenge has awarded €2.47m to the seven teams to develop innovative solutions aimed at addressing the UN Sustainable Development Goals. Over 18 months, the seven teams will compete for an overall prize of €1m to further advance their solution toward deployment.
The Surgical Data Science project addresses UN SDG 3: Good Health and Wellbeing, and builds on learnings and partnerships formed through the long-standing RCSI/COSECSA Collaboration Programme. The Surgical Data Science project is engaging with trainers, trainees, programme directors, scholarship bodies and training course providers active in the region, and collating and analysing data from COSECSA's existing training datasets.
The project will apply data science tools to examine which are the key factors that have the greatest impact on trainees' progression through training, and that enable trainees to graduate and practice as independent consultant surgeons.
The project's proposed solution is to build and deploy the Training Quality Platform (TQP), which each hospital accredited by COSECSA will be able to access to see how training programmes are performing. The TQP will indicate to each hospital how they can adjust their training programme to improve quality.
The TQP will also be accessible to COSECSA centrally, to allow the College to identify training programmes that need support, and to make informed decisions around allocating scare resources. Over time, the TQP may reduce the burden of time-consuming, costly in-person accreditation visits.